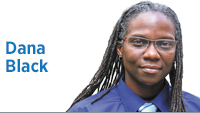 What is the purpose of government? Depending on whom you ask, the answers range from protection to obstruction. It also depends on who is actively participating in the mechanisms that make our government work.
I believe Americans are good people, but I also believe Americans will sacrifice one another over an issue that contradicts with their belief system. With so many different perspectives, how can we, a nation of immigrants and indigenous people with diverse backgrounds and experience, co-exist without a functioning government?
Ask yourself, if you are against someone dictating your Christianity, why should you then be allowed to dictate someone's Islam? The First Amendment of our Constitution with the establishment clause provides protections for everyone to pray how they want, or not at all. And when that is infringed upon, there are systems in place for those who have been aggrieved to address the problem. Fundamentally, that is one of the purposes of government: to protect your individual rights and to prevent anyone who thinks differently from harming you without retribution.
For some, things are changing much too rapidly, for others not fast enough. What is the happy medium? We are all humans having human experiences and doing the best we can with what we have. I continue to tell myself the one thing we should agree on; standing still as a nation is not an option. Not socially, not politically, and not economically. Going backward to a time when fewer people were enfranchised should not be desirable. That is why it is important for all of us to educate ourselves and participate in the institutions that make up our citizen government.
Our government is one of the many threads that bind us together as a nation. It establishes the rule of law and a set of social standards we all agree to live under. As is evidenced, this nation has never been perfect, and the disbursement of justice is not equal.
Nonetheless, she continues to grow, change and evolve in an effort to live up to her motto. She does so, not completely because of the benevolence of her citizens, but because of the laws that regulate her. Those laws have been written and rewritten to accommodate changing times, changing minds and changing hearts. As I often highlight and chastise my nation for its flaws, I do so with love in my heart. As Maya Angelou said, "Do the best you can until you know better. Then when you know better, do better."
As a nation, we know better; we just need the willpower to do better. And not simply suggest that those who see flaws in the nation's structure find another place to live. Would you move out of your house and purchase a new one simply because the one you currently live in has a hole in the roof? No. More than likely, you would implement a plan and then repair it.
We can do so much more for our people if we just put in the effort and start with love. No child should be hungry, regardless of how much income their parents earn. No person should lose their life savings because they got sick. Every person's labor should be valued. And nobody should be priced out of a quality education.
When average citizens turn their backs on glaring problems in this free-market society, the government steps in, because, as Rachel Maddow once said, "Some things the society requires are not always profitable."•
__________
Black is former deputy chairwoman for engagement for the Indiana Democratic Party and a former candidate for the Indiana House. Send comments to ibjedit@ibj.com.

Click here for more Forefront columns.
Please enable JavaScript to view this content.