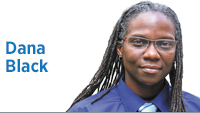 I watched the events of Jan. 6, 2021, live as they unfolded on my television screen—and for some reason, many of my fellow American citizens who align themselves with the Republican Party have attempted to gaslight the rest of us by telling us we didn't see what we actually saw. Rep. Andrew Clyde of Georgia said during a hearing of the Jan. 6 Commission, "You know, if you didn't know the TV footage was a video from January the 6th, you would actually think it was a normal tourist visit."
Four Americans tragically lost their lives in the 2012 Benghazi attacks, which prompted Republicans to engage in a lengthy two-year, four-month congressional probe to get answers to how this could have happened. Five Americans perished during the Jan. 6 insurrection, and Clyde and many in his caucus would have you believe it was "a normal tourist visit."
Interesting how perspective works. Horrified at the events that occurred in the People's House, Republican Minority Leader Kevin McCarthy on Jan. 16, 2020, said, "Some say the riots were caused by antifa. There was absolutely no evidence of that. And conservatives should be the first to say so." McCarthy's perspective has changed; he is now distancing himself from those comments while also being uncooperative with the Jan. 6 Commission's investigation.
As time progresses, we can read the words of those who were influencers of the attack on our democracy. Yet, too many will deny it happened. But for goodness' sake, they created a PowerPoint about how to overturn the election and thwart democracy.
During the attack, White House Chief of Staff Mark Meadows received several text messages calling on him to encourage the president to intervene and stop the violence:
"Hey, Mark, protestors are literally storming the Capitol. Breaking windows on doors. Rushing in. Is Trump going to say something?"
"We are under siege up here at the Capitol."
"There's an armed standoff at the House chamber door."
"We are all helpless."
Those texts don't read like a normal tourist visit to me, and yet, those terrified cries for help went without meaningful actions for several hours.
The party of law and order is not interested in getting at the truth, only staying in power at any cost. Like other American atrocities—the Trail of Tears, Japanese internment camps and Black Wall Street—they want us to get over it and forget it ever happened, while at the same time dismissing the need to hold those responsible for that deadly day accountable.
I know many on the right cannot resist the urge to compare Jan. 6 with the riots that occurred in our city streets in 2020. However, there is one really big element of the conversation they seem to want to overlook. The attempted coup was incited by the big lie spewed over and over again by elected officials looking to overturn the 2020 election results, attempting to keep the loser in power. Elected officials who raised their hands and swore to uphold the Constitution of the United States. They had an obligation to be truthful with the American people, but they opted for dishonesty that led to violent actions by fellow citizens.
As more evidence surfaces as to what caused that day, I wonder if the orchestrators of treason will be held accountable. I fear they will not—too many in positions of power with the ability to bring justice and accountability are on the side of the insurrectionists and will not do what is right by America.•
__________
Black is former deputy chairwoman for engagement for the Indiana Democratic Party and a former candidate for the Indiana House.

Click here for more Forefront columns.
Please enable JavaScript to view this content.