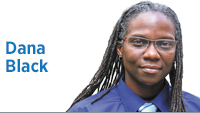 The United States has never been perfect—not even close. And although many Americans have fond memories of a simple time long past, that same time period was pure agony for many others.
Many Americans have been blanketed in a fairy tale of what it is to be an American. Others have been smothered by that same blanket attempting to extinguish any attainable dream. Many Americans expect the protections of the Constitution, for which they contributed nothing to its creation, but are unwilling to reckon with the racism that contributed to the enslavement and attempted genocide of humans because of no direct contribution to those systems.
Many Americans pay the cost of citizenship in the forms of military service or taxes paid but are not receiving those same guaranteed benefits as citizens of this nation. Many reasons for this could be attributed to the misunderstanding of the lives of people who do not live in the same neighborhoods, go to the same schools or attend the same churches.
Humans always tribalize. But that isn't the problem. It is the blatant disregard of humanity that is the source of the racial and other biases heaped upon our nation.
Americans who are not members of the majority cry out emphatically for sympathy, empathy and concern for their communities, but what they get in return is disregard. Vastly different lived experiences are contributing to that indifference.
Of course, there are examples of individuals who are not in the majority who have achieved successes. But their successes happened despite existing toxic conditions. During the political conventions, speakers highlighted how some were able to overcome discriminatory actions to achieve greatness, but those were the exceptions and not the standard.
What too few listeners hear is what those achievers endured to get to that spot, how much they sacrificed for their self-preservation or how they had to refrain from speaking out against disparaging comments hurled in their direction just to get a chance for success. These are sacrifices many are unwilling to make.
There is frustration that the movement is stagnating. But it is necessary to remember progress toward a more perfect union often does not happen in a single lifetime. 2020 is the centennial anniversary of the 19th Amendment. But it was 1848 when the first Women's Right Convention took place in Seneca Falls, New York. It took another 72 years for the amendment's ratification.
Progress also is not without complex difficulties. While white women were working for their enfranchisement, they were willing to uphold the disenfranchisement of women of color. It would take another 45 years for the Voting Rights Act of 1965 to protect the vote for people of color.
Often, it is difficult to see the finish line when it appears so far in the distance—but it is there. The historical facts illustrate the results of continued persistence in holding the United States to its constitutional commitment to equality for every citizen. It is not without great suffering, loss and contradictions. As Fredrick Douglass articulated, "Power concedes nothing without a demand. It never did and it never will."
Continued resistance to racial, religious, sexual, educational, wealth, health and environmental injustices never ceases. More than 185,000 Americans dead during this pandemic is an aide-memoire of the work ahead to eradicate those injustices. More important, it is necessary to resist the temptation to relinquish individual power granted by the Constitution due to the sluggishness of process. That, above all else, is the greatest obstacle in the path to achieving success in stated goals.•
__________
Black is deputy chairwoman for engagement for the Indiana Democratic Party and a former candidate for the Indiana House. Send comments to ibjedit@ibj.com.

Click here for more Forefront columns.
Please enable JavaScript to view this content.