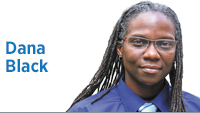 What is with all these grown people acting like total imbeciles at local school board meetings? As a nation, we try to proclaim how much we have grown and evolved since 1954 when the U.S. Supreme Court struck down racial segregation in public schools with the Brown v. Board of Education decision. But have we really?
We have seen the black-and-white pictures of grown men and women yelling, screaming and spitting on young Black students who simply wanted the same educational opportunities afforded to white students. We look at those photos and tell ourselves, "It was a long time ago," or, "We are better than that." One visit to YouTube and you can pull up newsreels of upset parents in the north over school busing of the 1970s.
Yet, over the past year, we have witnessed the exact same behavior displayed by adults over the myth that primary and secondary schools are teaching critical race theory or whether mask mandates to protect unvaccinated children from COVID-19 should be enacted. How interesting it is to see so many suburban school systems seeking to limit many aspects of U.S. history when, if they really studied the truth, they would see they are acting in the same ignorant way they proclaim to abhor from the 1950s and 1960s.
Right-wing thinks tanks certainly know how to frighten white parents into a rage and encourage them to display that rage at these meetings while simultaneously threatening school board members who are simply trying to do their jobs. Many meetings have had to have police present to protect the board members from attendees. How is that any different from when federal marshals protected Ruby Bridges in New Orleans or federal troops protected the Little Rock Nine in Arkansas?
The behavior of these parents is nothing short of an intimidation tactic to frighten school board members into vacating their seats or not seek reelection. Honestly, who would want to put up with that nonsense voluntarily?
The new political battleground is controlling the public education system and, in some cases, the continued dismantling of public education in favor of privatization. And those who wish to do so are using these parents as pawns to accomplish their goal of siphoning out public education dollars into the private sector.
What better way to take over local school boards than to create a new boogeyman for parents to be afraid of? Like the mythical fear of the Black boy attacking little white girls presented during the school desegregation debate of the 1950s, the myth that teachers are attempting to make little white kids feel bad about being white is now being used. One aspect of American culture that is forever true? Racialized fear tactics work every time.
To be clear, the education of our children is at stake. If we do not have the rigorous curriculum required for all Hoosier students to be competitive, our state will continue to lag behind. Not to mention that we are denying our students the opportunity to be fully informed thinking humans with nuanced views of our nation. These students are our future policymakers. We can't maximize their effort if they are not armed with all the information about how we, as a nation, got here.
Yes, much of our history is riddled with ugliness. But maybe if we teach it and talk about it, we can recognize it in current adult behavior and stamp it out.•
__________
Black is former deputy chairwoman for engagement for the Indiana Democratic Party and a former candidate for the Indiana House. Send comments to ibjedit@ibj.com.
Please enable JavaScript to view this content.