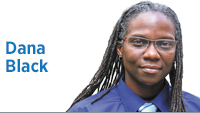 What happened to integrity being one of the most vital traits of leadership? When did protecting individual power become more important than protecting our government and the democratic ideals that formed it?
I pose these questions because I can't seem to figure out if Republican leadership is attempting to convince us that what we witnessed on Jan. 6 was a peaceful, loving protest or that it was House Speaker Nancy Pelosi's fault for not having adequate security to manage a violent insurrection. Is it possible to brainwash Americans successfully in such a whiplash manner? More important, why do it at all?
After watching the first of what will be many Jan. 6 commission hearings, I'm utterly baffled by the behavior and commentary of some elected officials, news personalities and other fellow Americans. Washington, D.C., metropolitan police officers Daniel Hodges and Michael Fanone and Capitol police officer Harry Dunn and Sgt. Aquilino Gonell testified on July 27 in front of the House select committee investigating the Jan. 6 violence at the Capitol, and I wonder, did some of these folks watch and listen to the same testimonies I did? Testimonies that brought me to tears because, even I, as I'm certain many of my fellow Hoosiers would find hard to believe, see the humanity in law enforcement officers.
These officers articulated in words what they physically experienced, and they corroborated by video evidence the horrendous beatings they endured trying to protect Congress. And yet the very same people they were injured protecting from a very angry and deadly mob mock them openly without repercussion. This is the epitome of adding insult to injury.
These brave men made themselves vulnerable by detailing what happened before, during and after that day, and people like GOP Rep. Jim Banks, from Indiana's 3rd Congressional District, went on "The Ingraham Angle" show saying, "Everything that you saw today was carefully scripted by Speaker Pelosi and her staff."
Instead of focusing on potential political implications of why these men were chosen, Banks should have focused on the trauma these men suffered and offered some compassion. However, Banks couldn't do that because he is more focused on regaining control of the House than on advocating for those who were protecting him and his colleagues. As he explained in the same interview, in his opinion of GOP Rep. Adam Kinzinger and Rep. Liz Cheney, "By the way, those two do not want Republicans to win back the majority next year. They want Democrats to remain in control." This was the very moment Banks could have shown the level of humanity required of the office he holds, but he didn't.
Unfortunately, Banks isn't alone. There are many others, like Rep. Jim Jordan, who historically shouts at eardrum-busting levels about how we need to support the police but uses his Twitter platform to try to deflect from the very police that need the support. Laura Ingraham had the audacity to mock the officers with "Best Political Performance" awards. Why don't more people find this type of bullying and continued trauma disgusting?
Merriam-Webster defines integrity as "firm adherence to a code of especially moral and artistic values; incorruptibility." There was a reason Banks was blocked from the commission. The lust for power has corrupted people like him and would have compromised the integrity of the commission when the goal is to get at the truth.•
__________
Black is former deputy chairwoman for engagement for the Indiana Democratic Party and a former candidate for the Indiana House. Send comments to ibjedit@ibj.com.

Click here for more Forefront columns.
Please enable JavaScript to view this content.