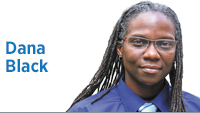 Power can be intoxicating.
In a nation of indigenous and immigrant people, both voluntary and involuntary, we must recognize how our different lived experiences shape views of our nation. But when one group is willing to forgo fellow citizens' freedoms in order to maintain its own power, we must call that group out and hold accountable those who behave nefariously.
Although some would rather not discuss the topic because it makes them uncomfortable, our nation has always had violent, racist tendencies. From the Trail of Tears and a Civil War to maintain states' rights to own or displace humans through reconstruction, Jim Crow and the Civil Rights movement of the 1960s, there has always been a force pushing for the marginalization of indigenous and other people of color.
However, to the chagrin of some, there have been enough brave people in the majority to push down those dark tendencies in order to keep America's promise to all its citizens.
No longer called the Ku Klux Klan or White Citizens' Council, this latest iteration of that darkness is now called MAGA Republicans and is formed in groups called the Proud Boys, Exodus/Americanus and the Oath Keepers. Terrorizing fellow Americans with night rides and cross-burning to prevent voting has been replaced with cyber-bullying and election-integrity legislation—from gerrymandered elected officials—designed to limit who has access to voting.
While some would like to pretend these are individuals on the political fringes, we know following the release of the Anti-Defamation League's report on leaked Oath Keepers data that they are police officers, military personnel, first responders and, yes, elected officials.
With the ADL's report, you don't have to wonder why some law enforcement personnel were taking selfies with the insurrectionists on Jan. 6. But more important, elected officials who are charged with being caretakers for their communities are in positions of power to do the opposite. Being an American patriot is more than just loving those who look like you or have a similar ancestry. It is having love for those who are nothing like you, because we all contribute to our society. It also means recognizing every eligible voter's right to cast a ballot.
Furthermore, you don't have to like how someone lives their life. As long as they are not harming anyone, we all should be working to help protect one another's personal liberties. But as of late, we are seeing the opposite at all levels and branches of our government. The level of duplicity achieved by those who wish to limit the rights of fellow Americans is astonishing. It's evident that, if there's a perception—or a lie cultivating a perception—that their rights are being infringed upon, some are willing to commit violence to protect what they believe.
President Biden was bold and unwavering in calling out what threatens our democracy, and this November, we need to be intentional about whom we elect to public office. These folks will write and execute policies—policies that will have a direct impact on everyday lives.
We should desire elected officials nuanced enough to understand diversity and display integrity. Those seeking office should want to be public servants, not simply self-serving. To protect our democracy, it's time to push down the darkness again.•
__________
Black is former deputy chairwoman for engagement for the Indiana Democratic Party and a former candidate for the Indiana House. Send comments to ibjedit@ibj.com.

Click here for more Forefront columns.
Please enable JavaScript to view this content.