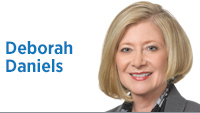 Now that we are already well into the 2020 campaign season, I feel moved to bring up a subject that has long concerned me.
Why do the candidates all have to "fight"?
Nearly every political candidate, at least on the national level, seems compelled to assure various constituency groups that he or she is "fighting": for equal pay, for the rights of [insert interest group here], against the evil corporations, for a higher minimum wage, against the evil of [insert cause, political party or individual here]. And all these claims must apparently be stated in vehement, heated terms in order to catch the attention of the voters.
Accompanying this method of campaigning is its twin, the vilification of the Other—the other candidate, the other group, the other side. Rather than civilly debating issues on their merit (never a big attention-getter), candidates find fault with the other side on a personal level. This time-tested approach is strongly advocated by political consultants, and many candidates, after resisting the call to "go negative," eventually do it, anyway. Why? Sadly, because it works. This is what voters respond to.
The rallying of constituency groups against a common (American) enemy has found success in various eras of American politics. Even in the late 1800s, politicians such as William Jennings Bryan appealed to the masses through heated, accusatory rhetoric. Go back and read his "Cross of Gold" speech for an example.
The point of this rhetoric is not necessarily to persuade additional people to the cause being advocated; it is to rally the already-convinced and bring them into the camp of the speaker (shouter).
Candidates of both parties rely on the effect of a populist appeal to the emotions and nostalgia of voters for a time that is either past (traditional manufacturing, for example) or never existed. Others promote a world view that is impossible to achieve given the vast sums of money they plan to spend (on free tuition or "Medicare for all"), with no realistic plan for raising it. But they are all "fighting."
Is this just a political ploy that—while irritating to people like me—is harmless? Maybe not. Research conducted at the University of Michigan in recent years suggested that violent rhetoric can significantly increase the potential for violent action—and not necessarily only on the part of naturally aggressive subjects. At a minimum, the research demonstrated increased support for political violence among some populations based on fighting rhetoric. This is a disturbing finding that should concern us all.
In "Election Night's Alright for Fighting: The Role of Emotions in Political Participation" (an article published in The Journal of Politics in 2011), researchers from the University of Michigan and University of Missouri drew information from a randomized experiment, a national survey of the 2008 electorate, and pooled American national election studies over a 24-year period. They found, alarmingly, that anger, more than anxiety or enthusiasm, plays a role in mobilizing voters.
No wonder anger is so popular among politicians. Maybe they read the book.
I learned politics from a different sort of politician: Dick Lugar. He was the voice of reason, always reminding us that our opponents are not our enemies, and those who disagree with us are not evil.
The Founders intended to create a democracy in which an educated electorate would make decisions based on civilized debates on the issues of the day. They created a system that would require compromise in order to achieve political ends.
I hope that somehow, some day, we can stop fighting and start working together. The alternative sure isn't working.•
__________
Daniels, a partner at Krieg DeVault LLP, is a former U.S. attorney, assistant U.S. attorney general, and president of the Sagamore Institute. Send comments to [email protected]

Click here for more Forefront columns.
Please enable JavaScript to view this content.