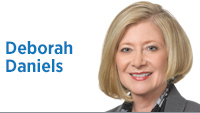 Recently, the male leader of the Tokyo Olympics organizing committee was forced to resign from that position after having made this comment explaining his opposition to increasing the number of women on boards: "[I]f their speaking time isn't restricted to a certain extent, they have difficulty finishing, which is annoying."
I found this more than a little surprising, based on both research and personal experience. Research about the assimilation of men and women, at least in Western society, suggests that young girls are taught to be polite, follow the rules and not to speak up. Boys learn the opposite lessons, leading to a tendency of men to be much more outspoken than women.
Journalists Claire Shipman and Katty Kay conducted an analysis of the research explaining the greater confidence of men, and detailed it in their book, "The Confidence Code." Among their findings: Women feel the need to be 100% sure they are right before speaking up and 100% qualified before volunteering for a new job. Men volunteer when they feel about 60% qualified.
Most women have experienced the phenomenon of thinking carefully through their potential answer to a question posed—by the professor in school or the boss at work—only to see a man jump in with an answer. Research shows that, even if the man's answer is wrong, he is viewed by others as smart and capable because of the confidence he displays. Women have also experienced situations in which we provide a proposed solution to a problem, only to be ignored until a male says exactly the same thing, after which he is applauded for "his" idea.
Just last month, I read an article in The Washington Post by Adam Grant, an organizational psychologist at the Wharton School, titled, "Who won't shut up in meetings? Men say it's women. It's not."
Grant cites research consistently showing that men—especially powerful men—are the ones who won't shut up in meetings. He confirms what women have known for years: "A man who runs his mouth and holds court is a confident expert. A woman who talks is aggressive or pushy."
He cites research by political scientists finding that, in a group of five, a single woman will speak 40% less than any of the men. That percentage changes very little until four out of five members of the group are women, at which point the volume of contributions to the conversation becomes equal.
If women do speak, they often are interrupted. A startling 2017 article from the Virginia Law Review analyzed the extent to which female justices of the U.S. Supreme Court are interrupted by their male colleagues. Over a period of many years, not only did male members of the court interrupt questioning by their female colleagues to a far greater degree than they themselves were interrupted, but even some of the male advocates interrupted female justices in the midst of a question, sometimes assuming they knew where the justice was headed with her question before she expressed it—another thing women have probably universally experienced. The interruption of a Supreme Court justice is against the court's rules; so the female advocates, as they had been trained since childhood, followed the rules and did not interrupt.
I'm not whining; I believe I have managed to be fairly successful in my career despite the existence of this phenomenon. But it is real; and for the sake of future generations and society in general, men and women should work together to change the dynamic.•
__________
Daniels, an attorney with Krieg DeVault LLP, is a former U.S. attorney, assistant U.S. attorney general, and president of the Sagamore Institute. Send comments to ibjedit@ibj.com.

Click here for more Forefront columns.
Please enable JavaScript to view this content.