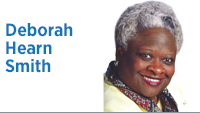 I am Don Quixote.
To acknowledge we are living in turbulent times is a gross understatement for the correct state of our nation. I find no solace in the direction of our national or local government. Greed and power in the present day seem to overshadow the rule of law and value of kindness.
I have always been a news junkie. I read regional and local news to get a well-rounded knowledge of current happenings. I learned in 10th grade current affairs class at Shortridge High School that the educated, well-informed citizen used multiple sources to get the scope of any issue.
Three recent events cause me to worry. First and foremost is the failure to hold the president accountable for his actions. Generations have been taught to respect the presidency. Like the Pledge of Alliance, respect for the office was not questioned.
The parallel to this was that the president set a standard of behavior that was to be emulated, an example of what it is to be a good American citizen. All presidents have had their opponents, but the president set the example of how to treat your adversary with dignity and respect. That is what made America great. When the highest officeholder calls those who differ from him a criminal, that is not teaching a generation how to conduct themselves in a democratic society.
The second event, which did not garner much attention in Indiana, was the display for Second Amendment rights that took place in Frankfort, Kentucky, our neighboring state's capital. Men in full camouflage and armed with assault weapons were on full display inside the capitol building.
This struck close to home for me. I am a proud graduate of Kentucky State University located a few miles from this capitol building. I worked for the governor there, so I am familiar with the site of this demonstration. Such a display of weapons would not be allowed by young men of color. It is difficult to imagine civil men in full military apparel with assault weapons allowed to be present in a government building. I challenge you to look at the images—they are terrifying. What has become of our sense of appropriate behavior?
The third event is not a single act but the collective act of the Indiana Legislature. To date, not one piece of legislation that would benefit women and children has seen favorable action this session.
Recently, we had four young people killed in one incident. While our young Hoosiers are losing hope for a future and turning to the streets, our elected officials are building on college campuses, while not allocating sufficient resources to education—thus losing another generation in the cycle of hopelessness. It is obvious that capital projects once again benefit the haves at the expense of the have-nots.
In this short session, left on the do-later list are help for pregnant Hoosier women, eliminating the tax on female sanitary supplies, approving consent legislation and raising teacher pay. What is so sad is, the members of our state body do not feel the need to even pass legislation that would demonstrate good faith in these areas.
This all leads me in a direction I refuse to go—that place where hope is lost and despair rules. Even in the current darkness, hope must be maintained.
So, like Don Quixote, I will still dream and pursue the impossible dream. Will you join me?•
__________
Smith is former CEO of the Girl Scouts of Central Indiana. Send comments toibjedit@ibj.com.

Click here for more Forefront columns.
Please enable JavaScript to view this content.