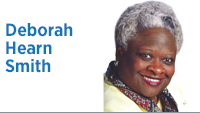 I must be in a dream, for certainly the country founded by people escaping unjust government and seeking religious freedom would not recognize the United States of today. Surely this is not happening in the land of the free and the home of the brave. Did I really hear the president tell a nation of immigrants to return to their country of origin?
I open my eyes. I realize this nightmare is real. I wonder what happened to the brave. Are they asleep, lost, busy, don't care, or have they lost the bravery? I waited to hear the governor, mayor or someone in Indiana denounce the go-back-to-your-country rhetoric, but I hear only silence. I must give credit to U.S. Reps. Susan Brooks and Andre Carson for having the moral courage to speak out.
Indiana prides itself on its Midwestern values, family and hard work. We point with pride to the strong and solid values of our roots. Now I am left wondering if those values are for sale, if power allows us to reprioritize those values. Now that the sitting vice president is a homegrown Hoosier, do we no longer hold the same standards?
Many will say Mike Pence has been above the fray. I would argue that he has been a more-than-willing enabler for the president. Remember the old adage, "Birds of a feather flock together." While in Indiana, Pence branded himself as a conservative Christian holding close to the basic values of faith and family. How does he sit smiling next to a president who so apparently lacks a moral compass?
I begin to reflect on the reason we need new leadership that more directly mirrors the population. I realize the leadership of the country is all white men who have never experienced the pain of oppression. U.S. Sen. Mitch McConnell has no life experience in Kentucky that puts him in the position of victim, and he chooses to turn a blind eye to the pain of his fellow citizens.
The freshman class now in the U.S. House comes with different life experiences, and therefore the lawmakers view life not through the lens of privilege. The president can belittle any group or segment of our country and it's apparently to be understood and supported. But the old traditional standard is still in place for women—and especially women of color. We cannot speak our truth because it might offend.
The old rule was to hold your pain inside, hold your opinion, but that day is dead.
I applaud this new courageous group of women. They are standing on the shoulders of many silent heroes who have gone before. Many died with the unspoken dream in their soul that a new group would follow and bravely pick up the mantle and speak our truth.
It should not matter if we agree on every opinion or policy, but the freedom to express our view must not be bullied by the power of any officeholder. Let there be no confusion in my stand: The president and the Republican Party are displaying a racist side of their core. Caring citizens should all be alarmed and vocal about the direction we are observing.
Living in Indiana all my life, I have been the target of hateful and racist speech. I am more than qualified to recognize this and there is no doubt that the president's remarks are racist. Let's not sugarcoat the truth.•
__________
Smith is former CEO of the Girl Scouts of Central Indiana. Send comments toibjedit@ibj.com.

Click here for more Forefront columns.
Please enable JavaScript to view this content.