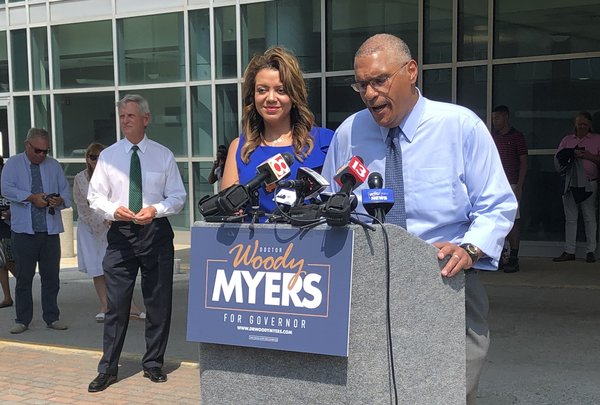 The Democrat trying to unseat Gov. Eric Holcomb said Tuesday the Republican incumbent isn't doing enough to combat the coronavirus and offered his own plan, which includes spending some of the state's surplus revenue and bringing state lawmakers back for a special session to do even more.
Woody Myers, a former state health commissioner and former Anthem Inc. executive, also is calling for Holcomb to order all schools to close. As of Monday, 273 school districts were closed and 16 remained open but on spring break. Holcomb has given districts the flexibility to close by exempting them from up to 20 days of required instruction, but Myers said requiring closure is "just another way to limit the spread."
Myers said lawmakers—who adjourned their 2020 session just last week—should return to the Statehouse to appropriate $100 million from the state's surplus, pass a stronger price-gouging law and approve an emergency paid leave law to make sure employees can take time off of work to deal with the virus.
Myers said his top spending priority for the $100 million would be to help school districts with students who cannot access e-learning materials. He said the state should not assume that all families have that technology available.
"We do not know how long these kids are going to be out of school," Myers said.
He also proposed purchasing more high-tech thermometers that allow a person's temperature to be taken by simply being close to them.
"Those ought to be available in mass," Myers said.
Officials in some states are proposing spending packages to try to help people affected by the outbreak. In other states, lawmakers are looking to scale back proposed budgets, knowing that tax revenues will drop.
Indiana has announced neither move.
When asked recently about whether or not Indiana would tap into its more than $2 billion in reserves to deal with the coronavirus, Holcomb said, "we'll see."
"I mean everything's on the table, and if we need them, they're there, fortunately," Holcomb said.
As for a strict price gouging law, in an executive order signed Monday, Holcomb mentioned the issue and suggested that anyone who believes they have been subjected to price gouging call the Indiana Attorney General's Office to report it.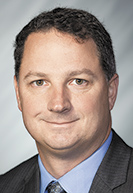 House Speaker Todd Huston said he's been in regular contact with Holcomb, and "it's clear the governor is keeping all options on the table."
"We will work with him to do whatever is necessary to protect Hoosiers and keep Indiana running," Huston said in a statement. "In regards to utilizing reserves, the administration has indicated they have the resources and flexibility they need at this time, but we will continue evaluating the state's fiscal position as we move forward."
Myers also said that, if he was governor, he would establish a COVID-19 task force with leaders from state and local government, health care, business, labor, education, law enforcement and the public to help develop recommendations to mitigate the impact of the virus.
Other suggestions from Myers include having weekly webinars with businesses, creating a database to track the inventory of negative-pressure hospital rooms in the state, establishing contingency plans for populations not easy to move (such as those in prisons or nursing homes) and launching "drive-thru" evaluations for those concerned about symptoms.
Myers also criticized Holcomb's administration for not having access to more testing kits. As of Tuesday morning, only 159 tests had been conducted by the Indiana State Department of Health, and 30 of those have been positive.
"Testing is a huge huge liability for us right now," Myers said.
Holcomb's campaign did not address the specifics in Myers' proposal when asked about it, but the campaign sent a statement in response to the announcement.
"Gov. Holcomb's sole focus remains on keeping Hoosiers safe and secure," campaign spokeswoman Holly Lawson said in an email. "He's working directly with local, state and federal medical leaders across our state and nation to ensure Indiana responds in the best manner on a daily basis. Gov. Holcomb has rightly directed his campaign to stand down and set politics and fundraising aside to focus on helping Hoosiers get through these trying times. In light of that, we have no comment on anything the Democrat candidate is saying as part of his campaign."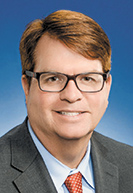 Indiana House Minority Leader Phil GiaQuinta, D-Fort Wayne, also had suggestions for the governor and sent him a letter on Tuesday outlining those ideas.
GiaQuinta's letter said that House Democrats would support increasing the eligibility for unemployment insurance, requiring all employers to provide up to four weeks of emergency paid leave, waiving co-pays for individuals insured under the Healthy Indiana Plan, providing fiscal year 2021 disbursements for food banks, enhancing protections for tenants to prevent evictions and protecting homeowners from foreclosures and requiring property tax penalty amnesty for seniors and veterans who qualify for property tax deductions.
"Working together is the only way we will be able to give our state a fighting chance to survive the effects that this pandemic is starting to have and will continue to have on our state's health care system and economy," GiaQuinta wrote in the letter.
One thing Myers and House Democrats have not suggested yet is postponing Indiana's May 5 primary election.
"I am not prepared to state that today," Myers said.
But at least one candidate is willing to publicly request the date change. Carl Brizzi, a Republican running in Indiana's 5th Congressional District, issued a statement Tuesday afternoon calling for the state to postpone the primary election.
"Not an easy decision, but the safety of poll workers and voters takes precedence," Brizzi said in a statement. "Free and Fair elections are the foundation of American democracy, we need to ensure that all Hoosiers are heard and are safe."
Please enable JavaScript to view this content.