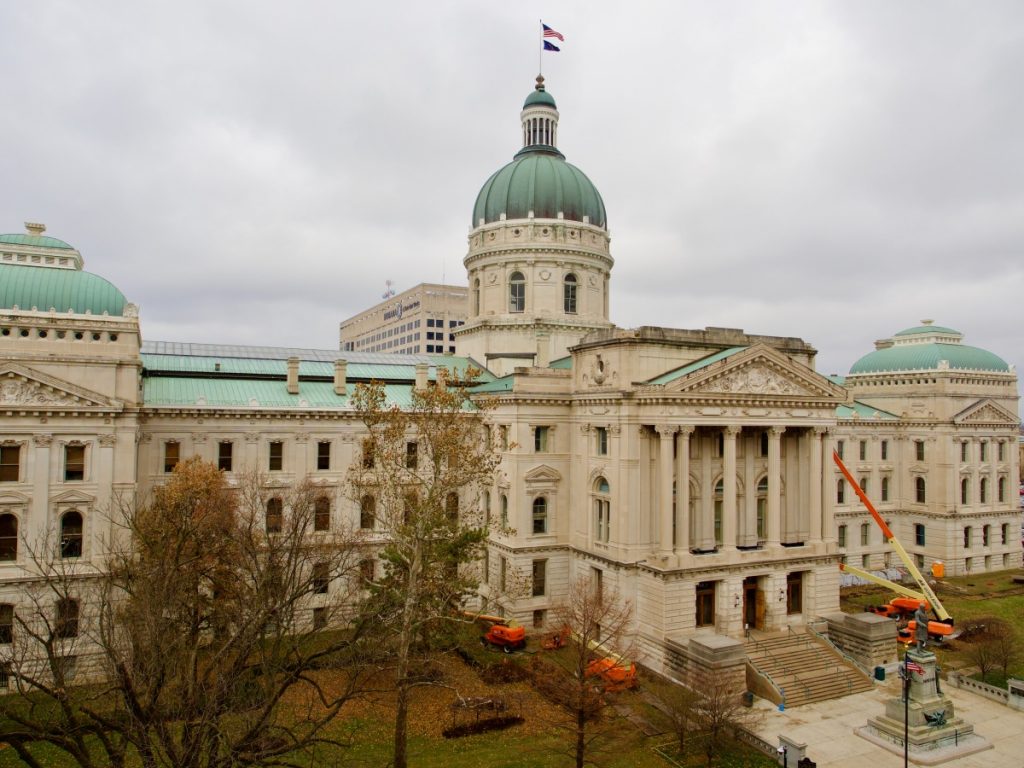 Indiana Democratic leaders are urging Republican Gov. Eric Holcomb to call lawmakers back to the Statehouse for a special legislative session next month.
The Indiana Senate Democratic Caucus, Indiana House Democratic Caucus and Indiana Black Legislative Caucus announced Tuesday during a press conference that they want lawmakers to come back to Indianapolis in August to address criminal justice reform, absentee voting and oversight of how the state is spending federal funding.
The next regular session of the Indiana General Assembly does not start until January. Lawmakers will participate in summer study committees in the meantime and return for one day in November for what's known as Organization Day, but no formal legislation is considered during those meetings.
House Speaker Todd Huston said he does not see a need for a special session at this time, but he said "important and productive conversations on these topics are ongoing."
Holcomb did not respond directly to the call for a special session. But he said, "I'll absolutely look at everything that they're recommending."
And he added, "I don't want to be presumptuous here, but I'm assuming they're talking to the leaders in their chambers as well about that possibility. They'll have a say-so as well."
Top lawmakers also have not yet released plans for how the regular session could be conducted safely during the pandemic, but Senate Minority Leader Tim Lanane said he doesn't think it would be difficult to safely have an in-person special session with masks and social distancing.
"Where there's a will, there's a way," Lanane said.
If a special session were to be called, Democrats would seek to pass bills that would ban chokeholds, racial profiling and no-knock warrants. All of those measures are from the criminal justice reform agenda the Indiana Black Legislative Caucus released shortly after the death of Minneapolis resident George Floyd.
"These are easy first steps," state Sen. Eddie Melton, D-Gary, said.
Huston said he had met with leaders of the Indiana Black Legislative Caucus as well as law enforcement leaders and other stakeholders about criminal justice issues. "My pledge to all of them has been that our team will continue working with them to further improve and support our criminal justice system," he said
Democrats also would want to pass legislation that would allow all voters to cast a ballot by mail in the November election and allow absentee ballots to be collected until 6 p.m. on Election Day. Current law requires voters to have an excuse to vote by mail and ballots to be returned by noon on Election Day.
The Indiana Election Commission allowed no-excuse absentee voting in the June 2 primary election, but Republican leaders—including Holcomb—have said they want the November election to proceed as normal.
Lanane said Democrats believe making that exception for the primary election was the right decision, given concerns about the spread of COVID-19, and they believe that same concern will apply in the fall.
"No one should have to decide between their health and the right to vote," Lanane said.
Huston responded to the Democrats' calls by saying, "The Indiana Election Commission has statutory authority to take various actions if needed, and I'm certain the secretary of state and our local election officials will be able to ensure a safe and secure election for all Hoosiers."
The third major topic Democrats would want to see addressed during a special session is oversight of $2.4 billion the state received through the federal Coronavirus Aid, Relief and Economic Security Act.
So far, Holcomb's administration has allocated some of that funding toward supporting local governments, small businesses, workforce development programs, rental assistance, and contact tracing and testing.
The state has also received about $1 billion in federal aid for specific state agencies.
The Democratic caucuses want even more of the federal funding to be used to expand testing, contract tracing, the housing assistance program and the small business program. Democrats are also pushing to spend the funding to support Hoosiers who have lost their employer-based health insurance and expand paid family and medical leave to cover employees exempt from the federal law.
House Minority Leader Phil GiaQuinta said he believes the state still has about $2 billion in federal funding that has not yet been allocated.
Officials from Holcomb's administration have slowly rolled out plans to spend the funding and have said they'd like to see Congress change the law to provide governments with more flexibility in how and when it can be spent.
The current law requires governments to spend the money on COVID-19-related expenses incurred from March 1 to Dec. 30. It can't be used to replace tax revenue lost when Indiana went into shutdown mode or for expenses already outlined in the state budget.
Democratic gubernatorial candidate Dr. Woody Myers, who is challenging Holcomb's bid for a second term, said he stands "in solidarity with legislative leaders and the Indiana Black Legislative Caucus" in their efforts "to provide Indiana with equal and just communities for all people."
"Equally important is finding solutions to benefit the large number of Hoosiers who are struggling to survive COVID-19—the $2B in unspent CARES Act funding must be spent in a way that puts people over politics," he said.
Please enable JavaScript to view this content.