A Democratic state senator plans to run for Indiana Attorney General in 2020.
Sen. Karen Tallian, of Ogden Dunes, announced her campaign Wednesday morning, saying she plans to "restore checks and balances to the Statehouse and to be a voice for all who live here."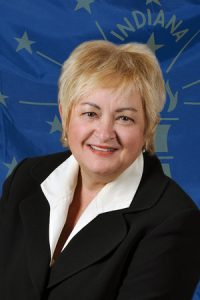 Republicans have supermajorities in both chambers of the Indiana Legislature and control all statewide elected offices.
"The Attorney General's office should not be trying to promote a right-wing agenda to overturn health care for pre-existing conditions and take away the ability for Hoosiers to have affordable insurance coverage," Tallian said in a written statement, referring to Republican Attorney General Curtis Hill's support for a federal lawsuit that would declare the Affordable Care Act unconstitutional.
Tallian has a law degree from Valparaiso University Law School and has practiced law in northwest Indiana for 29 years. She has served in the Indiana Senate since 2005 after being elected in a caucus to replace Rose Ann Antich-Carr and is known for her efforts to legalize marijuana. She most recently won re-election in 2018 with 60% of the vote.
In her announcement, she took direct aim at Hill, who has been accused of inappropriately touching four women at a party after the 2018 legislative session ended.
Hill, who has denied any wrongdoing, faces a federal lawsuit filed by the four women alleging sexual harassment and defamation and is under scrutiny from a disciplinary commission that could revoke his law license.
"Curtis Hill has not been an advocate for Indiana citizens, and he has not brought integrity and reason to this office," Tallian said in a statement.
Tallian told The Times of Northwest Indiana that she supports the four women—Democratic state Rep. Mara Candelaria Reardon, Senate Republican legislative aide Niki DaSilva, Reardon's aide Samantha Lozano and Senate Democratic communications director Gabrielle McLemore.
But Tallian is actually mentioned in part of the lawsuit, which also names the state of Indiana as a defendant and describes what the women say has been a "retaliatory hostile work environment."
The complaint says that Tallian put her hand on DaSilva's shoulder and asked if it was OK or if she needed permission. Tallian then told DaSilva "that if she were gay it would not be sexual harassment," according to the lawsuit.
Hill has not publicly announced whether he will seek re-election, but he has been fundraising. In July, his campaign sent out an email announcing that he had raised $220,000 since the 2019 legislative session concluded at the end of April.
John Westercamp, a 30-year-old attorney with Bose McKinney & Evans LLP, announced in June that he will seek the Republican nomination, setting up a potential challenge to Hill at the GOP convention next year.
Top Republican officials, including Gov. Eric Holcomb, House Speaker Brian Bosma and Senate Pro Tem Rodric Bray, have called on Hill to resign. Hill has rebuffed those calls and remains in office.
Tallian told The Times of Northwest Indiana that she isn't specifically running against Hill—she's running to restore balance in state government.
She is the first Democrat to announce plans to run for attorney general. Democrats will select their nominee at their convention next summer.
Please enable JavaScript to view this content.