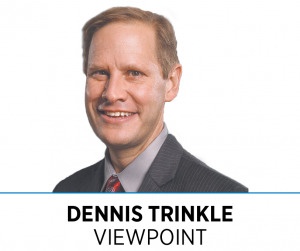 Indiana should celebrate its well-earned reputation as a legitimate tech hub, which has grown over the past decade in both size and stature. Our tech workforce has increased 16.3% since 2010, a 60% faster growth rate than other sectors, to more than 184,000 tech and tech-enabled positions.
But studies show we will lose this momentum unless we—state and local policy-makers, educators and members of the ecosystem—expand our approach.
Finding enough tech talent has long been a concern here and across the nation. Hardly a week goes by without a Hoosier tech exec falling victim to—or perpetrating—talent poaching from a peer or competitor. This kind of job-hopping will never completely end, but it has to stop being the local go-to strategy.
Three forces give us a perfect storm of opportunity to blow the doors off our investment in talent acquisition:
1. The pandemic showed companies around the world they can succeed—even thrive—under flexible and remote work styles if they can effectively communicate with their workforce and customers. That mindset shift created huge demand for access to the digital tools and innovation necessary to get the job done.
2. The tight labor market is forcing employers to offer in-demand flexible work options. Nearly 60% of U.S. workers who can work from home are doing so out of choice vs. necessity, per a January Pew Research Center survey. It also noted a significant increase in the percentage of remote workers who moved away from their home work city—17% compared to 9% in 2020.
3. Retirements and the Great Resignation are reducing the pool of experienced tech talent while, at the same time, enrollment in Midwestern colleges is projected to decline 15%.
Now, the good news: Indianapolis is a midsize city with many of the amenities and attractive career opportunities remote workers want. Regional cities in Indiana offer their own desirable qualities along with burgeoning tech clusters that will be super-charged through the state's Regional Economic Acceleration and Development Initiative, or READI, grant investments. Our outstanding colleges and universities might see declining traditional-age students, but they still provide a huge source of new talent, much of it from out of state.
TechPoint is setting a bold, new goal designed to use this perfect storm to Indiana's advantage to inclusively grow and attract new tech talent to 230,000 people by 2030.
The case that policymakers should invest incentive dollars in tech workers is crystal-clear. Tech jobs offer high salaries, stability and strong advancement pathways. For every 10,000 tech workers we add, we generate $698 million in annual wages and gain $56.9 million in state and local tax revenue.
Working collaboratively, we must identify, align and undertake innovative strategies for growing the tech and tech-enabled workforce. Examples include reimagining training for tech talent, like eliminating four-year degree requirements for many positions, shifting from degree-focused job descriptions to descriptions focused on competencies, and introducing our youngest Hoosier students to tech careers.
Hitting our marks will also require greater focus on inviting and supporting more women and people of color into the sector.
This will not be easy work. It will take collaborative effort over the coming decade by corporate, community and civic stakeholders through convenings, shared information to align around our best paths forward.
We've spelled out the need for this collaborative work on the TechPoint website, along with ways to get there. Reach out to me to discuss further.
You have a big part to play in this effort. Let's get to work.•
__________
Trinkle is TechPoint's executive vice president of talent pathways.
Please enable JavaScript to view this content.