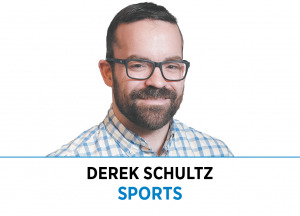 Despite the Colts currently sitting in first place, folks in Indianapolis are dealing with mixed emotions.
The team has emerged as an early AFC South and playoff contender behind a surprise 3-2 start, so fans should be celebrating their status as one of the NFL's best stories through the first five weeks. However, it's hard to sound the trumpets when the star prospect entrusted with piloting the franchise back to its previous heights keeps getting knocked out of the cockpit.
For the third time in four outings, Anthony Richardson was unable to make it to the finish line of a full game. The fourth overall pick, who has already dazzled fans by flashing his tremendous athleticism and eye-popping arm talent, will miss at least a month with a sprained shoulder joint. This injury comes on the heels of Richardson's tweaked knee in the season opener against Jacksonville and a concussion suffered in Houston, which cost him the rest of that game and the following week's win over the Ravens.
For a fan base still grappling with the PTSD of their last franchise quarterback's constant health concerns and shocking early retirement, one can understand why the alarms are already flashing bright red.
Burned into the memory of every Colts fan is Andrew Luck's being unable (and, finally, unwilling) to survive the constant pounding he took over the final half of his career. You can't talk sports injuries in this town without someone wincing while remembering Luck's demise and what could've been for the Colts. His lackluster health and early departure changed the trajectory of the franchise, but so did his predecessor's.
Peyton Manning's time in Indianapolis was also cut short, thanks to a trio of neck procedures that cost him the 2011 season. Making the safer call, Jim Irsay and company decided not to risk banking on Manning's recovery and reclamation, instead moving forward in 2012 with Luck, their new No. 1 overall pick.
The Luck-over-Manning decision initially looked like it might have been the right one, but Indy's four successful seasons (2012-2014, 2018) were easily trumped by Manning's record-setting, MVP-level years in Denver, even if he was skidding to the finish line when the Broncos won Super Bowl 50 in his final game.
Regardless, both star players' tenures in Indianapolis feel wrongly abbreviated because of something neither one of them had much control over: injuries.
What can be done
Despite internet experts rushing to their keyboards to diagnose what has befallen Richardson—if you want to sift through all the "He runs too much!" and "He's soft!" posts, be my guest—you can chalk up most of these early injuries to poor luck.
The injury-inducing hit taken Sunday against Tennessee seemed harmless. That was until Richardson sat up grimacing and pointing at his shoulder. The fact remains that football is a collision sport where quarterbacks are chased down by 300-plus-pound behemoths. Even at 6 feet, 5 inches and 255 pounds, it hurts when those goliaths hit you. When they fall on you, it can hurt even more. Some avoid it better than others, and some merely survive it better than others.
Giants QB Daniel Jones was a human pinata against Seattle, suffering 11 sacks in a blowout loss to the Seahawks, but played the next week. Gardner Minshew was blasted repeatedly by a blitzing Kyle Hamilton in Baltimore and got up each time. From his 35th to 40th birthdays with the Packers, Aaron Rodgers was healthy and missed just one game (a failed COVID-19 test). On the third snap of this season as a New York Jet, a seemingly routine sack from Leonard Floyd destroyed Rodgers' Achilles tendon. Often, there is no rhyme or reason to quarterback injuries.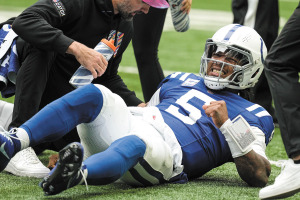 Richardson can and does run, so there have been calls from the fan base for him not to put himself in danger. In his two mostly full starts, Richardson carried the ball 10 times each against the Jaguars and Rams. Even reducing that number in half, it is impossible to prevent any contact whatsoever.
Plus, Richardson's legs are perhaps the greatest of his football talents. Do you want him not to use that gift? The same play Richardson was injured on last week versus the Titans was run by the Colts in the previous game against the Rams, and it went for 23 yards—it's a key component to Richardson's effectiveness.
Sliding can't be a blanket solution, either, as quarterback runs can happen in fourth down, scoring situations, or critical, end-game moments: a time and place where playing it safe isn't an option. You can't call zero runs, cover the guy in bubble wrap, and ensure a clean pocket for 50-60 snaps per game. It's not feasible.
Shedding labels
A sprained AC joint, the same injury Richardson is dealing with, ended Matthew Stafford's 2010 season in Detroit. At that point, Stafford had missed 19 of a possible 32 games due to a myriad of injuries, including a separated shoulder and season-ending knee problem in his rookie campaign.
Stafford drew constant criticism in those early years for being "fragile" and "injury-prone," especially for a player who had already pocketed the most guaranteed money in NFL history ($41.7 million) at the moment. Yet, in his next eight seasons (and 10 of the next 11), Stafford started every game, including a win in Super Bowl LVI—this despite being sacked over 400 times in that span.
Not every "injury-prone" player has remained injury-prone, and sports labels, like records, are meant to be shattered. Stafford went from being made of glass to one of the league's toughest and most durable players. Villanova's Jay Wright couldn't win in March, until he did and then did it again. Much to my chagrin, the Boston Red Sox are nowadays known more for championships than for chokes.
Right now, Richardson is a potential star with a bad injury rap. Fairly or unfairly, three injuries in five weeks will earn you a label, and it's a difficult one to shed. Perhaps we're about to live through another Luck, or worse—a Bob Sanders-type situation where a special talent can never quite ascend to the heights he seem destined to reach. Or maybe Richardson can return to an exciting trajectory and take the Colts along for the ride. After all, it's clear that shoulders can heal just like labels can be shed.
I hope we can someday think back to what was said about Richardson through his first five games and laugh, because looking back and making fun of ourselves is better than looking back and wondering what could have been with another Colts quarterback.•
__________
From Peyton Manning's peak with the Colts to the Pacers' most recent roster makeover, Schultz has talked about it all as a sports personality in Indianapolis for more than 15 years. Besides his written work with IBJ, he's active in podcasting and show hosting. You can follow him on X, formerly Twitter, @Schultz975.
Please enable JavaScript to view this content.