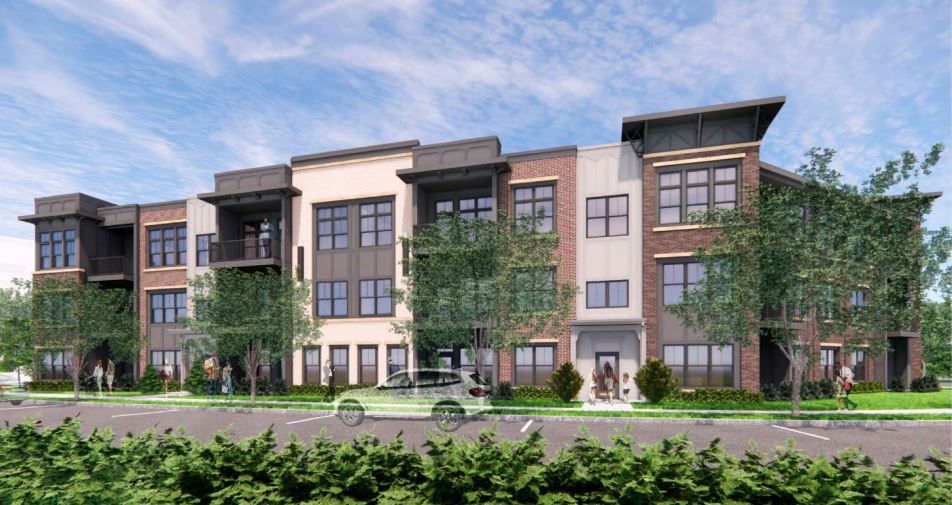 A Carmel-based developer is hoping to build a 358-unit apartment complex in Noblesville near Interstate 69 on the city's southeast side.
J.C. Hart Co. Inc. presented a proposal at Tuesday's Noblesville City Council meeting to develop Hyde Park Towns and Flats on 17.4 acres west of Hamilton Town Center at the southwest corner of East 141st Street and Brooks School Road. The apartments would be part of the Hyde Park development.
In June 2021, Noblesville approved a $142 million master plan for the 274-acre Hyde Park project, which is located in Noblesville's Corporate Campus between Greenfield Avenue and East 146th Street.
Outside of roughly 155 acres of floodplains that will be preserved for their natural features and recreation, Hyde Park's design includes more than 97 acres of varied residential projects, including multifamily, town houses, duplexes, fourplexes, mixed-use buildings and a senior-living community.
Construction on the first mixed-use projects at the northwest and southwest corners of Campus Parkway and Boden Road are expected to start before the end of 2022. Birkla Investment Group Owner Tony Birkla has signed on as the developer of those projects.
Construction on Hyde Park Towns and Flats would take place in two stages, according to documents filed with the city.
The first phase of construction would take 22 months and include 258 units in 25 buildings, plus a clubhouse facility. The second phase would include 100 units in six buildings at the southwest corner of the development.
The second part would be built after the units in the first phase reached stabilized occupancy, the documents said.
Each of the buildings would be three stories tall and range from a 23-unit apartment building to two single-family structures.
The project would include about 6.2 acres of open space with a "preservation area" to the west of the development area.
A cost for the project was not provided at Tuesday's meeting.
Randy Sherman, a partner with Indianapolis-based Weaver Sherman Design, said Hyde Park Towns and Flats would serve as a transition between residential areas to the west and commercial, office and retail spaces to the east.
"This is a highly walkable community with lots of different building types," Sherman said.
Please enable JavaScript to view this content.