The Noblesville City Council approved a master plan Monday night for 274 acres near Hamilton Town Center to be developed with $142 million of residential, commercial and park projects.
Steve Ball, president of Chicago-based MAB Capital Investments LLC, and the city entered into a project agreement Monday to chart the future development of an area between Greenfield Avenue and 136th Street in Noblesville to be called Hyde Park.
Hyde Park's conceptual design seeks to fill roughly 10% of the property with mixed-used buildings, multifamily housing, neighborhood retail and office space, a senior living community and a park with more than two miles of walking and biking trails.
To provide guidance over the Hyde Park's 10-year timeline, the city plans to review each proposed project and their associated developer-backed bond requests up to $35 million.
"I view Hyde Park as a second coming of our corporate campus," Noblesville Mayor Chris Jensen said. "We've found over the past several years that we need to be in the driver's seat when it comes to developing our city."
Construction on the first mixed-use projects at the northwest and southwest corners of Campus Parkway and Boden Road are expected to start before the end of 2022. Birkla Investment Group Owner Tony Birkla has signed on as the developer of those projects.
Steve Hardin, a partner with the Indianapolis-based law firm Faegre Drinker, represented the company during Monday's meeting. He said Birkla's first project will feature structured parking and a four- to five-story building with roughly 15,000 square feet of commercial space on the first floor and an estimated 50 apartments above.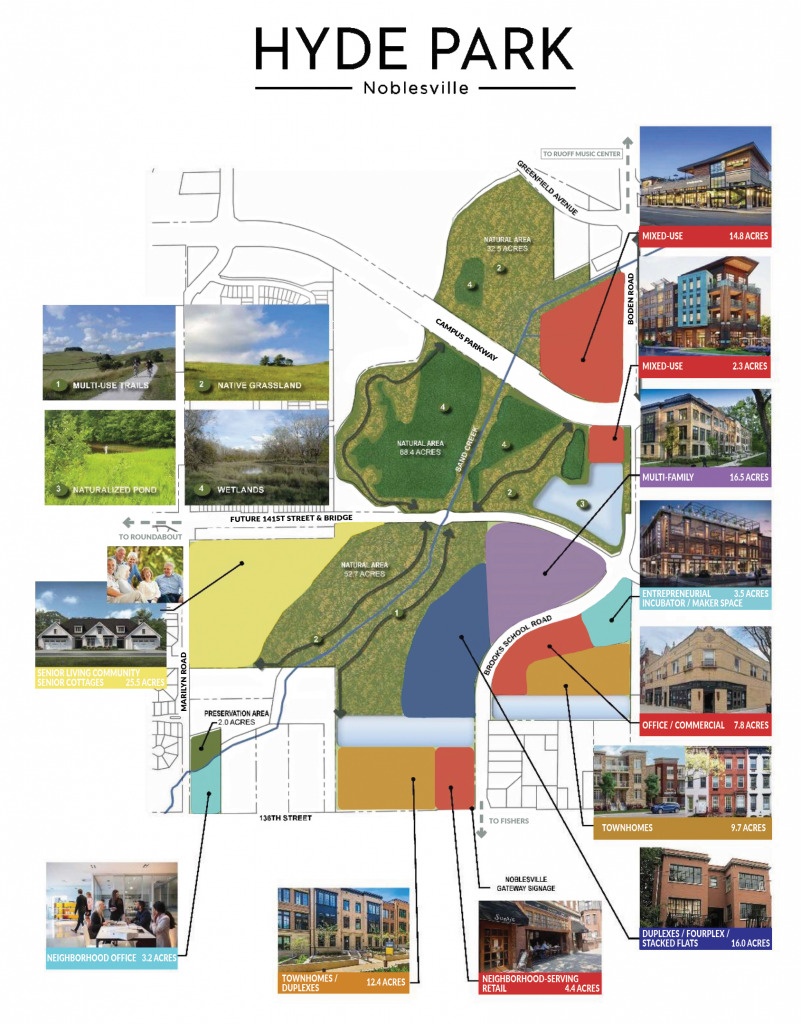 Uses will become more varied as development extends south along Brooks School Road. Four acres are to be dedicated to an entrepreneurial hub or incubator space; 55 acres for multifamily projects including apartments, townhomes, multiplexes, stacked flats and townhouses; eight acres for neighborhood office and retail; 26 acres for a senior living community; and a roughly 162-acre park.
In addition to those projects, MAB Capital Investments will install 2,800 feet of road and bridge infrastructure connecting 141st Street from Marilyn Road to Boden Road.
"We had the land and the vision, but we asked the city at numerous meetings to dream big," Hardin said.
Noblesville-based Bedrock Builders, also owned by Ball, will be the development manager for Hyde Park as other developers sign on.
"We are very pleased to partner with the City of Noblesville for this transformative master-planned development," Ball said in a written statement.
Please enable JavaScript to view this content.