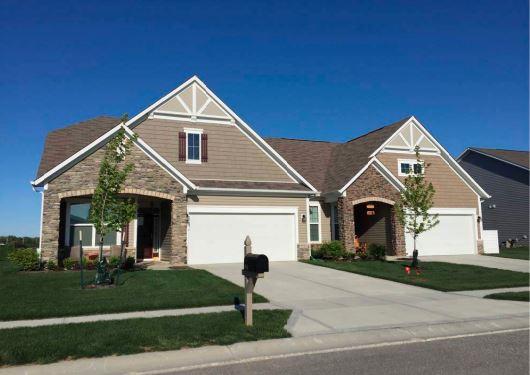 Indianapolis-based Apollo Developers LLC is planning a residential development near Morse Reservoir that would include more than 90 attached single-family houses, according to documents filed with the city of Noblesville.
Plans call for the Retreat at Morse development to be developed on about 27.5 acres of land on the north side of East 196th Street, west of the intersection with Hague Road. It would be less than a half-mile east of Morse Park & Beach and situated behind existing homes.
The development is expected to include 94 attached single-family villas that would be built by the Indianapolis office of Atlanta-based Beazer Homes and be priced at an average of $400,000.
Andy Wert, a land-use professional with Noblesville-based law firm Church Church Hittle & Antrim, told the Noblesville City Council on Tuesday night that the homes would be similar those constructed by Beazer at Miller Walk between State Road 37 and Union Chapel Road.
Amenities at the Retreat at Morse would include a pickleball court, walking trail, water features and connectivity to Morse Park & Beach.
Apollo Developers and the Gordon family, which owns the land, have requested that the land be rezoned to a planned development district.
Wert told the council the land is currently outside Noblesville's city limits and the developer will submit an annexation request if rezoning is approved.
Apollo is owned by Ed Hamilton and Neil Goradia. The company has focused in recent years on residential subdivision development in Hamilton County.
The firm has three developments in Noblesville: Marilyn Woods, a 56-acre neighborhood with 135 homes at East 141st Street and Marilyn Road; Shafer Woods, an 18-acre single-family subdivision near East 191st Street and Little Chicago Road; and Trailside Woods, a 22-acre development with 41 single-family homes near State Road 32 and Gray Road.
Apollo is also planning the Midland South development in Westfield, which will have 49 townhouses along the Midland Trace Trail and across from Grand Junction Plaza.
The firm is also looking to build 90 residences, including 32 townhouses, 25 traditional single-family homes and 33 large single-family homes, at the Springwater development in Westfield.
Please enable JavaScript to view this content.