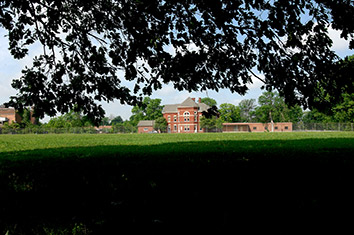 An Ohio developer plans to spend $51 million to develop dozens of apartments and townhouses on a seven-acre tract of land on the western edge of the Central State Hospital campus in Indianapolis.
Columbus-based Woda Cooper Development Inc. is in discussions to acquire a portion of the 50 N. Tibbs Ave. property to build 40 for-rent townhouses and 136 apartments intended for individuals making anywhere from 30% to 80% of the area's median income, with those percentages varying based on the dwelling.
Known as Richardson Townhomes & Flats, the project would consist of two apartment buildings—with 96 and 40 units, respectively—and eight townhouse structures with four to six attached single-family homes in each.
The development would also feature 204 surface parking spaces, a co-working space and outdoor picnic areas. Both portions of the project would be environmentally certified with a Leadership in Energy and Environmental Design, or LEED, Silver designation, said Nick Surak, senior vice president of development for Woda Cooper.
Half of the townhomes are expected to have two bedrooms, with the other half featuring three bedrooms, he said. The units would be made available for purchase after 15 years. The apartments would range from one to three bedrooms.
Woda plans to pursue 9% and 4% low-income housing tax credits for the townhouses and apartments in July through the Indiana Housing and Community Development Authority. If funding is awarded for the projects in November, construction would begin in fall 2024 and conclude about one year later.
Low-income housing tax credits are generally considered the most helpful tool available for affordable housing builders in Indiana. The 4% credit is generally available to any project, while the 9% credit is far more competitive.
The credits allow developers to sell 10-year, fixed-rate, tax-exempt bonds to finance part of their project. The 4% bonds allow for up to 40% of the development cost to be secured as capital, while the 9% bonds can secure up to 90% of the cost.
While each has its own advantages, the 9% credit is typically reserved for projects that have deep affordability challenges. The 4% bonds have a broader affordability threshold.
The city's Metropolitan Development Commission on Wednesday is set to consider a measure allowing the city's Department of Metropolitan Development to enter into an option-to-purchase agreement with Woda Cooper.
Surak said Woda was selected in 2022 following a request-for-proposals process for the site, along with developers for several other parcels on the Central State campus. The company also completed the 61-unit Proctor Place project on the campus in 2022. The organization, which has had an Indianapolis office since 2015, also has projects underway in Noblesville and Corydon, Indiana.
In a statement, Department of Metropolitan Development Director Rusty Carr said the agreement with Woda Cooper is a continuation of an effort to revitalize the campus and other underutilized land across Indianapolis, with a goal of creating more affordable housing and other neighborhood development.
"DMD will continue to leverage our resources and play an active role in creating deeply affordable housing across our city's neighborhoods," the statement said.
In the past decade, several projects have been developed on the Central State property, including a new football field and running track, an event venue and more than 160 single-family homes and townhouses.
Projects still in the pipeline include a redevelopment of the former Indianapolis Fire Department Station 18 and more multifamily housing and educational facilities. Carmel-based T&H Investments this week is set to break ground on a $36.6 million affordable apartments project on Central Greens Boulevard, just north of the 3000 block of West Washington Street.
Central State Hospital opened as the Indiana Hospital for the Insane in 1848 and housed more than 2,500 patients at its peak in the 1950s. The hospital closed in 1994 and the city bought the 150-acre property a decade later. Redevelopment began in 2011, when Carmel-based Pedcor Cos. broke ground on the site's first project: the 144-unit affordable apartment complex called The Steeples, with the help of federal tax credits.
Please enable JavaScript to view this content.