Indianapolis Department of Metropolitan Development Director Emily Mack is leaving her position after four years, Mayor Joe Hogsett announced Tuesday.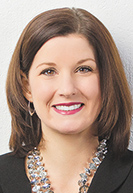 As director of the department, she leads and oversees all city planning and historic preservation, large-scale redevelopment projects, economic development and incentives, real estate transactions, the city's land bank, and distribution of grants from the U.S. Dept. of Housing & Urban Development.
Mack will leave the city at the end of the month and has accepted a new job in Chattanooga, Tennessee, as new president and CEO of River City Co., the economic development agency for downtown Chattanooga.
Indianapolis Department of Metropolitan Development Chief Financial Officer Rusty Carr will serve as interim director of the department. He previously worked for the city as a revenue/budget analyst in the controller's office focusing on primary revenue streams and tax increment financing.
Mack began her career with the city of Indianapolis in 2003, first as a preservation planner with the Indianapolis Historic Preservation Commission and then as a mayor's neighborhood liaison and deputy director for the Department of Code Enforcement.
Mack has held a number of public, private and not-for-profit leadership roles, including working as a project leader at CORE Planning Strategies and real estate development manager for Indianapolis Downtown Inc.
She also served terms on the board of directors of Tourism Tomorrow Indy, the United Way of Central Indiana Capital Projects Fund, Indianapolis Housing Trust Fund and the Blueprint Council.
"During her time with our administration, Emily successfully led DMD through the White River Vision Plan, the Lift Indy Program and the acquisition of the Oaktree Apartments for future redevelopment," Mayor Joe Hogsett said in written comments. "She secured a record amount of New Markets Tax Credits for the city and launched transformational development projects. While we are all sad to see her go, I know that the impact of her work will benefit our community for years to come."
Please enable JavaScript to view this content.