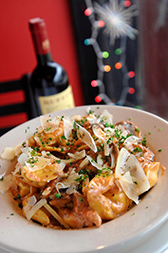 Donatello's Italian Restaurant is calling its quits after more than a decade in operation in the heart of Carmel's Arts & Design District, the owners announced Thursday on social media.
Patrick and Beth Aasen, who founded the restaurant at 9 W. Main St. in late 2010 with their son, Carmel City Council member Adam Aasen, said they plan to retire after 40 years in the restaurant business.
The elder Aasens said they were looking forward to traveling and spending time with their children and grandchildren. They said Adam Aasen had plenty to keep him busy, with his role on the city council, his freelance marketing work and a 2-year-old daughter.
Patrick Aasen started his career as a chef at the legendary Italian Village restaurant and went on to serve as head chef at several restaurants, including Rudy and Rosa's. He also was chef and owner of Arturo's Ristorante Italiano near Keystone Crossing.
His longtime business partner and wife, Beth, bakes all the cakes at Donatello's, books parties, orders alcohol, waits tables and cooks, too.
"We're proud of what we've done and it might seem like strange timing to close up shop now that people are getting vaccinated and weather is getting warmer, but it's about more than that," the couple wrote on Facebook. "The last year has been tiring physically and mentally, and all of us our looking forward to time to recharge. If this past year has taught us anything, it's that life is too short."
Please enable JavaScript to view this content.