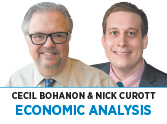 There is a wonderful internet meme floating around that says a lot about our economy. One very angry anthropomorphized camera, along with a similarly annoyed hand calculator, old-fashioned telephone handset, alarm clock, cassette tape, transistor radio, empty mail envelope and paper desk calendar are all armed with various weapons. They surround a very frightened-looking anthropomorphized cell phone with the caption: "Ohh! So you're the one who took all our jobs!"
Mid-20th-century economist Joseph Schumpeter described a market economy as one subject to the "the perennial gale of creative destruction." Entrepreneurs introduce new products that make existing products obsolete. The cell phone replaced all its malefactors by giving consumers a better way of satisfying their wants. Good for consumers, but bad for the producers of outdated products.
Several years back, our students made a film on the evolution of the ice industry over the past 200 years. The film titled "Creative Destruction" can be viewed on our YouTube channel Econ-in-Motion. In 1818, ice was commercially available in the United States. It was harvested from lakes and ponds in New England during the winter months and stored in ice houses for use later in the year. Its price, however, was exorbitant—the equivalent of about $6.50 a pound—or $65 per small bag.
Over the next century, technological innovation moved ice production from the winter pond to local manufacturing and significantly reduced its price. The ice delivery man became a regular feature of the urban landscape. It is estimated that, by 1914, there were 2,500 ice companies in the country employing over 30,000 workers. Yet another disruptive innovation, however, hit in the late 1920s: home ice production in homeowner refrigerators. The number of firms making ice has shrunk to about 500 and the workforce has declined to 7,000. We are pretty sure the ice delivery man of 1914 had feelings for refrigerator ice similar to what the 1970s hand calculator has for the cell phone. Yet none of us want to chuck our cell phones or go back to home ice delivery.
Although while this Schumpeterian view of the benefits of creative destruction does not allay the anger of the ice delivery man, it should remind us of another thing: The gales of creative destruction are unpredictable. All we can be sure of is that, 30 years from now, today's cell phone will want to mug its replacement. •
__________
Bohanon and Curott are professors of economics at Ball State University. Send comments to ibjedit@ibj.com.
Please enable JavaScript to view this content.