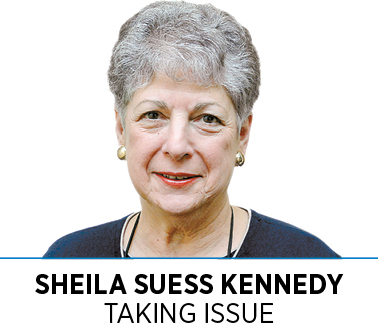 The Indiana Legislature is back in session, and as usual, there are multiple reasons for concern.
For example, there's House Bill 1005. It proposes to expand taxpayer funding for private education by more than $100 million next year. Indiana already has one of the nation's largest voucher programs, which was sold to the public on the theory that private schools would "rescue" students from failing public schools and improve students' academic performance.
It's bad enough that so many legislators—and parents—consider education to be just another consumer good, providing children with skills needed for participation in the marketplace. But even if that were the case, even if transmitting marketable skills was the sole mission of the schools, study after study has demonstrated that the promised improvement has not materialized—that voucher programs have consistently failed to improve academic performance.
So why do our legislators continue sending Hoosier tax dollars to private schools, rather than spending to improve public education? Follow the money.
More than 7,000 schools around the country currently participate in a voucher or tax credit program. Three quarters of them are religious. In Indiana, the percentage is higher; it's estimated that more than 90% of Hoosier voucher recipients attend a religious school.
A recent study reported by Huffpost and Salon found 30% of participating religious schools using books and curricula provided by one of three sources: Abeka, Accelerated Christian Education and Bob Jones. The analysis also found that—in addition to teaching creationism and the "sinfulness" of homosexuality—language in the books "overlaps with the rhetoric of Christian nationalism, often with overtones of nativism, militarism and racism as well."
While public schools are subject to numerous legal requirements, there is virtually no oversight of private schools, especially those that are religiously affiliated.
When a colleague and I researched whether schools accepting vouchers are under any state-imposed obligations to teach civics, for example, we found a total lack of any such requirements—and virtually no oversight at all. (A study of religious voucher schools in Louisiana found numerous health and safety violations, along with creationism in lieu of science instruction.)
Private schools, including private religious schools, have a First Amendment right to teach whatever they want—when they are being funded with private dollars. However, when they are being supported with public dollars taken from public schools—as they are in Indiana and other states with voucher programs—the calculus should be different. This is especially the case because public education isn't simply concerned with teaching English and STEM subjects—it is also supposed to be a mechanism for instilling constitutional and democratic values. Public schools, as Benjamin Barber memorably wrote, are "constitutive of a public."
As current levels of civil discord demonstrate, Americans increasingly occupy different realities. We consult different media sources, embrace different political ideologies, attend different (or no) churches, and even tend to move to neighborhoods populated by people who look and think like us.
There are fewer and fewer "street corners" in today's fragmented world, fewer places where people from different cultures, races, religions and perspectives come together in any meaningful way. Economically separated residential patterns make that ideal hard enough to achieve through public school systems, but using our limited tax dollars to create yet another set of "bubbles" that enable parents who are so inclined to deny science and transmit a Christian nationalist worldview is both a betrayal of our public obligations and yet another cause of America's declining civic cohesion.•
__________
Kennedy recently retired as professor of law and public policy at the Paul H. O'Neill School of Public and Environmental Affairs at IUPUI.
Please enable JavaScript to view this content.