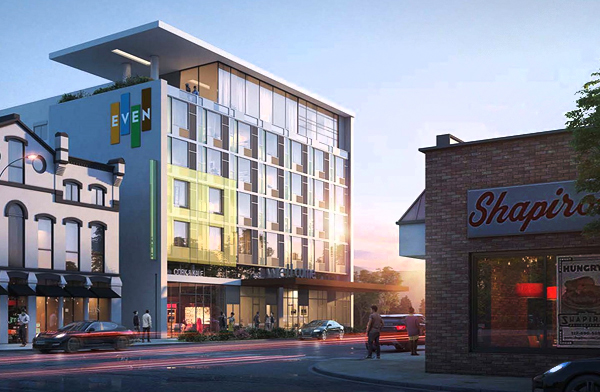 Dora Hospitality Group is teaming up with the owner of Shapiro's Delicatessen to build a 118-room, six-story downtown hotel at Meridian and Sycamore streets, the developers announced Tuesday.
The project will mark the debut of InterContinental Hotels Group's Even Hotels brand in Indianapolis.
Fishers-based Dora is leading the development and will serve as local manager. Brian Shapiro, CEO and president of Shapiro's, will be a minority partner.
The project will be built on land across the street from Shapiro's Delicatessen at 808 S. Meridian that has been owned by the Shapiro family for decades. The hotel is expected to open in fall 2020.
IHG launched Even Hotels in 2012 as a brand that focuses on traveler wellness. A dozen Even properties are operating in seven states, with several more in the works.
Developers say the hotel will offer a full gym, a glass-enclosed media and meeting room, and piano and wellness amenities. It also will have an open-air bar and what it calls an "unplugged area," where guests can play board games as well as eat and drink.
Shapiro plans to consult on the hotel's food concepts.
Developers said the land is part of an Opportunity Zone established by the state, a designation that will provide tax breaks to the investors.
Attorney Tim Ochs of Ice Miller, who represents the Even Hotel partnership, said the project still needs Regional Center approval but most of the plans are in place.
Dora, a third-generation family business that dates to 1958, manages or owns about 20 hotels under multiple brands in Indiana, Illinois, Montana, North Dakota and Michigan, including nine in the Indianapolis area.
Shapiro's opened in 1905 as a grocery selling kosher deli meats cooked on site at the corner of McCarty and Meridian streets in Indianapolis. It grew into a restaurant in the mid-1930s and has remained at the same location. The company also has restaurants at the Fashion Mall and at Indianapolis International Airport.
IHG Hotels & Resorts is involved in more than 5,700 hotels globally under numerous brands, including Holiday Inn, Candlewood Suites, Crowne Plaza, Kimpton Hotels & Restaurants and Staybridge Suites.
Please enable JavaScript to view this content.