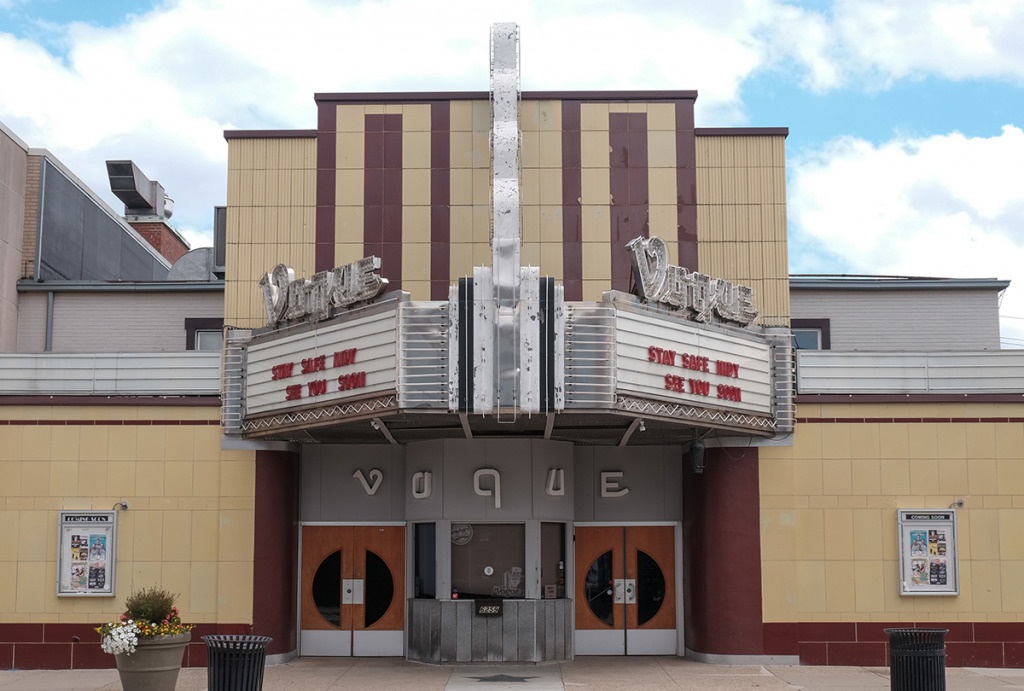 The concert company that operates the Vogue in Broad Ripple will add a 60,000-square-foot downtown venue to its portfolio as part of redevelopment plans for the former Arrestee Processing Center near the intersection of East Market Street and College Avenue.
Forty5 Presents, which oversees the Vogue and the summer concert series Rock the Ruins at Holliday Park, is listed as a partner of 1820 Ventures LLC in a proposal to overhaul the former Arrestee Processing Center and Jail II.
On Wednesday, the Department of Metropolitan Development announced its selection of 1820's plans after issuing a request for proposals in January. The concert and event venue is one component of a project that includes apartments, educational facilities, retail space and a co-working office area.
The live music room is planned for the third and fourth floors of the four-story APC building, which initially was home to the Cole Motor Car Co. a century ago. The venue's audience capacity is expected to be flexible, ranging from 500 to 3,000 attendees.
Jeremy Stephenson, managing partner of 1820 Ventures, told IBJ that his company sought opinions from area residents on what they would like to see at the redeveloped Cole Campus. A concert and event venue emerged as an idea based on neighborhood feedback.
"We were hearing, 'We want a place where the neighborhood can come into and experience. We don't want it to be closed off like multifamily buildings can sometimes feel,' " Stephenson said.
Eric Tobias, a co-owner of Forty5 Presents with Andrew Davis and Scott Kraege, said it's too early in the process to discuss details of the new venue.
Tobias said the venue's name will be unveiled at a later date. The new venue won't affect business at the Vogue, Tobias said, but a 3,000-capacity room gives Forty5 Presents options when pursuing touring artists who attract audiences larger than what the 900-capacity Vogue can accommodate.
Forty5 Presents purchased the entertainment business that stages events at the Vogue, 6259 N. College Ave., in 2019. The 2022 Rock the Ruins lineup has featured appearances by Counting Crows and Bruce Hornsby. On Sept. 18, Forty5 Presents will bring Watkins Family Hour, a band featuring two members of Nickel Creek, to The Toby venue at Newfields.
Area concert venues and audience capacities
Ruoff Music Center, 24,000
Gainbridge Fieldhouse, 20,000
TCU Amphitheater at White River State Park, 6,000
MacAllister Amphitheater in Garfield Park, 5,000
Nickel Plate District Amphitheater, 4,000
Murat Theatre in Old National Centre, 2,500
Pavilion at Pan Am, 2,500
Rock the Ruins at Holliday Park, 2,500
Clowes Hall, 2,100
Egyptian Room in Old National Centre, 2,000
Hilbert Circle Theatre, 1,660
Palladium at Carmel's Center for the Performing Arts, 1,600
The Vogue, 900
Madam Walker Legacy Center, 900
Hi-Fi Annex, 750
The Toby at Newfields, 530
Hi-Fi, 400
Emerson Theater, 400
Please enable JavaScript to view this content.