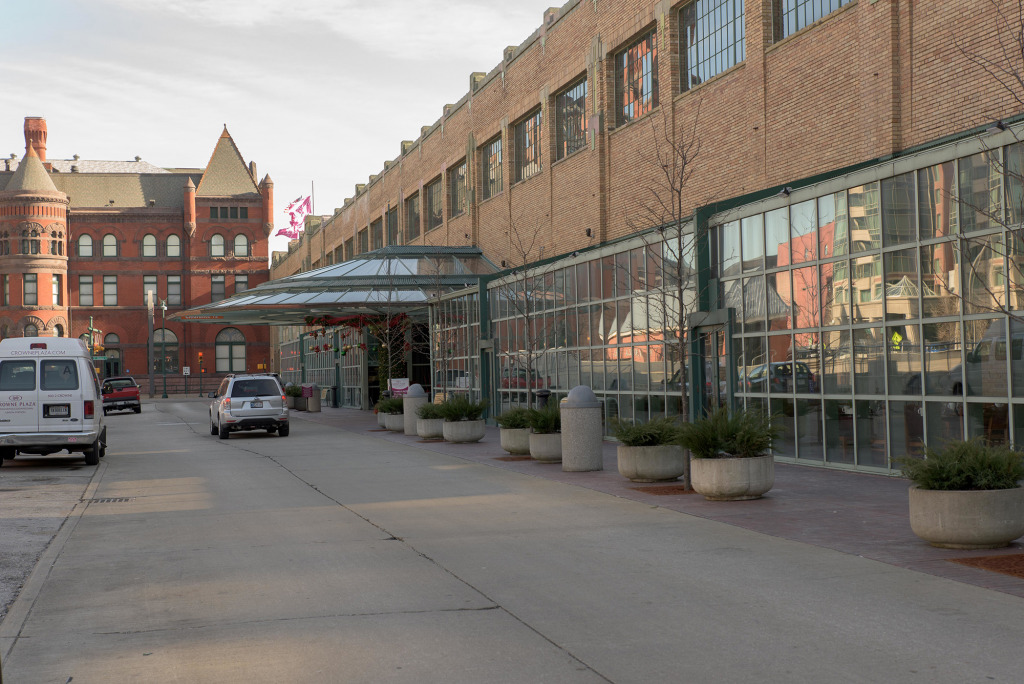 The Crowne Plaza at Union Station in downtown Indianapolis is on track for a $15 million top-to-bottom renovation.
The 273-room hotel at 123 W. Louisiana St. will receive new carpeting, wallpaper and fixtures—among other improvements—starting later this year as part of a routine update to the property.
"This is an exciting time for us, although it's just part of our normal business practice to every 10 years or so make improvements our properties," Jim Dora, president of hotel owner General Hotels Corp., told IBJ. "And with a downtown hotels like this, we're always working to stay up with our competition, so this is just part of that normal lifecycle."
Dora said the renovation will cost $14 million to $15 million, with a goal of work beginning during the slower portion of the year, which typically runs from November through February.
He said the work—designs for which have not yet been finalized—will first focus on guest rooms, with other elements like updates to the restaurant and bar, lobby, and meeting spaces to follow. Dora said the iconic Pullman Traincar rooms will receive the same type of interior improvements as other guest rooms.
To finance the project, General Hotels secured a $24 million commercial mortgage-backed securities (or CMBS) loan through Los Angeles-based Vista Capital, with a 10-year, fixed-rate term.
CMBS loans are created by taking a group of loans, bundling them together, then selling them to investors as a series of bonds. They are attractive for hoteliers because they typically offer more favorable terms and larger loan sizes than do banks and other traditional lenders.
Dora said a portion of the loan will be used to relicense the hotel's Crowne Plaza flag, while another will pay off the property's existing CMBS balloon payment, which matured late last year.
The renovation will presumably start within several months of work beginning on the expansion of the Indiana Convention Center and construction of a connected 800-room Signia by Hilton Hotel at Pan Am Plaza. That project, which is just a block north of the Crowne Plaza, recently received a fresh influx of funding from the city's downtown tax-increment financing district to help cover escalating construction costs. The developer estimates that work will begin ion the second quarter of this year.
Dora is optimistic the new hotel will have a lifting effect for all downtown hotels, his in particular, because it will mean the city can accommodate more large events at a given time.
"We continue to bet big on the success of downtown" Dora said. "I think its definitely [the case for] Indianapolis and downtown that we've got good times on the horizon—and lots of events."
Please enable JavaScript to view this content.