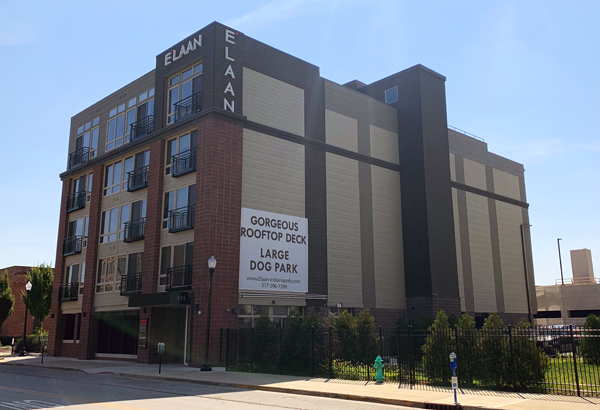 An upscale apartment building in downtown Indianapolis is expected to be acquired at the end of this month by a local firm that is planning an expansion project that will almost triple the number of units in the property.
The E'laan, a 24-unit property at 515 E. Market St., is under contract by local investment company Birge & Held, which also owns the nearby Maxwell Apartments, at 530 E. Ohio St.  The E'laan is owned by Market East LLC, controlled by Bloomington-based developer Sib Sheihk.
Birge & Held plans to spend more than $5 million to add a 46-unit addition to the five-story building, said Managing Director Jarod Brown. The project also calls for upgrades to several existing units and amenity improvements, including a pool and a larger fitness center.
The addition is expected to expand the building to the corner of Market and East streets. It will be blended to match the original building, designed by local-based Demerly Architects, which has been retained for the project's second phase.
The E'laan, built in 2017, was originally intended to be a two-phase project with 69 units and 3,400 square feet of retail space. The retail element was later abandoned, and the second phase was called off when Sheikh decided he would sell the property.
The property is managed by Barrett Asset Management, but Brown said Birge & Held plans to take over management duties when the sale closes Sept. 30, much the way it did with the Maxwell.
About 90% of the units in the building are leased, Brown said.
Brown said the firm plans to capitalize on the area's Opportunity Zone designation, which gives tax breaks to investors.
"What's attractive to us about the property is the fact that we could buy the existing building and then expand it," he said. "(Opportunity Zone) benefits really make a project like this even more attractive."
Brown expects the unit mix to remain about the same through the second phase, with the firm mostly focusing on one- and two-bedroom units. Rents are expected to stay in the range of $1,500 to $1,900 per month.
Longtime local apartment broker George Tikijian, of Cushman & Wakefield's multifamily team, is representing Sheikh in the deal. He said the seller plans to reinvest the proceeds from the sale into projects he is pursuing in Bloomington.
Both Tikijian and Brown declined to disclose the sale price for the property.
Brown said construction could start on the project as early as spring 2020.
Please enable JavaScript to view this content.