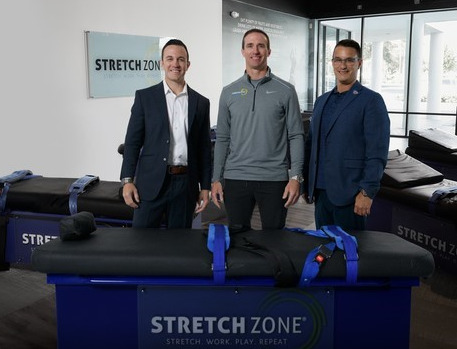 A Florida-based chain of assisted stretching studios is gaining a foothold in central Indiana thanks to former National Football League quarterback Drew Brees and his local ties.
Ben Smith, a Fishers resident, first met Brees and former linebacker Jason Loerzel when he joined the Purdue University football team in 1997. Smith said the trio became such fast friends on the field that they agreed to go into business together when they finished playing football, but that wouldn't happen until Brees retired from the New Orleans Saints in March.
In mid-July, the three opened Indiana's first Stretch Zone franchise, at 10725 N. Michigan Road in Zionsville, and they're planning to open locations in Carmel and Fishers by the end of this year.
"Opening Stretch Zone studios in one of the cities that has shaped my career on the field feels great, and to do it with my college buddies, Ben and Jason, is an experience that I'll cherish for years to come," Brees said in a written statement.
Fort Lauderdale, Florida-based Stretch Zone announced in April that Brees had joined the company as a franchise partner, board member and brand ambassador. He has since partnered with Smith and Loerzel to act as co-owners of Stretch Zone studios in Indiana, Louisiana and southern California. Their first franchise opened last month in New Orleans, where Brees played for 15 seasons, followed shortly by the Zionsville location.
"I think we all bring a passion for health and wellness," said Smith, who played safety at Purdue. "That's what drove us to look at this deal."
Stretch Zone's Zionsville franchise is its 129th in the nation. Smith said there's room for at least six locations in the greater Indianapolis area.
"We're focused on the northern suburbs and the greater Indianapolis area, but we'd love to be able to branch out to the college cities," he said.
The ownership group's second local location, at 31 W. City Center Drive in Carmel, is scheduled to open next to Matt the Miller's Tavern in October. Smith said he's not yet finalized a location in Fishers.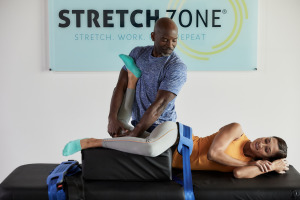 Smith said a majority of Stretch Zone customers are athletes, but the company also lists the aging and injured among those who could benefit from its services. The business offers clients practitioner-assisted stretching through the use of a patented system of straps and handles that isolate and stabilize muscles for effective stretching.
"[It] provides the ability to increase that range of motion, to increase that flexibility and ultimately get you back to a lifestyle you were used to when you were younger," Smith said.
Customers who are more familiar with massage might find the stretching goes deeper, Smith said, to penetrate beyond that top layer of muscle. After a consultation and a complementary demonstration, clients can choose from purchasing individual sessions or months-long memberships.
"I have seen the impact and benefits firsthand that stretching has on my athletic potential and quality of life, and Ben, Jason, and I are in total agreement that it is time for everyone to try out this patented system that enhances overall health and wellness," Brees said in his statement.
Employees go through a week-long training program to learn Stretch Zone's technique, and Smith said he's looking to hire up to six individuals per store with relevant background experience in subjects like anatomy, personal training and kinesiology.
Please enable JavaScript to view this content.