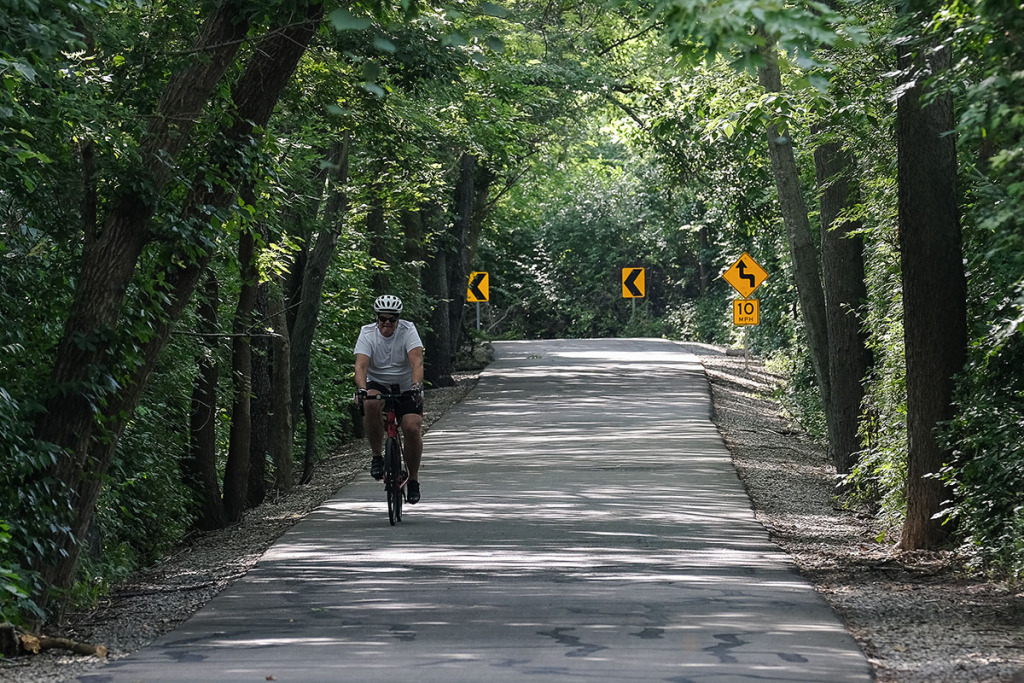 Some Westfield residents cheered a Duke Energy Indiana plan for two new transmission lines that they said would spare trees along the Midland Trace Trail.
The estimated $29 million project will include two new 69-kilovolt electric transmission lines to serve fast-growing Noblesville and Westfield. The transmission lines will originate from a new substation that would be built on land Duke purchased in 2019 at the southeast corner of State Road 32 and North Gray Road.
Duke's preferred route for the northern transmission line would travel north along the route of an existing 230-kilovolt transmission line to the power company's Westfield Northeast Substation north of East 191st Street.
The southern transmission line would travel west on State Road 32 to Carey Road. It would then run south on the west side of Carey Road to East 169th Street and connect to an existing 69-kilovolt line.
The fenced-in substation—called Noblesville West—would likely be about 300 feet by 300 feet, or roughly the size of two football fields.
Transmission lines carry energy over long distances, while distribution lines are lower-voltage lines that provide electricity to homes and businesses. The transmission lines that would be built to serve Noblesville and Westfield would be supported by 80- to 100-foot-tall, galvanized-steel poles.
Construction work along the routes is scheduled to begin in early 2023. Work will continue until the line is placed into service in 2025.
Residents who live in nearby Westfield neighborhoods feared the southern transmission line would negatively affect a large section of the Midland Trace Trail from Gray Road to just past Carey Road. However, they said the route Duke Energy selected would not have a severe impact on the trail's trees and most people's yards.
Mary Beth Lundgren, a resident of the Villages of Oak Manor housing development, wrote a petition last summer that received 273 signatures opposing Duke's use of the trail as a route for the transmission line. She said many residents paid a premium to live along the trail, which she described as being like a city park.
"Everyone in my neighborhood who I have heard from, and there's been a lot of people I've heard from, are very pleased and we feel like Duke Energy listened to us," Lundgren told IBJ. "We'd like to think that our petition was a big part of why they chose this."
Westfield City Councilor Scott Willis, who represents the area affected by the lines south of State Road 32, said a few Oak Manor residents along Carey Road are displeased that the preferred route will result in some tree loss near their backyards.
"Most residents were very pleased with the route they chose, but there are probably half a dozen residents that actually live in my neighborhood that aren't happy because it's going to be take out some trees," Willis said.
Duke said the project is necessary due to rapid growth in Noblesville and Westfield, which stresses its local electric transmission system.
The current system was installed in 1984 and includes a 230-kilovolt line that runs north to south, which Duke calls the "backbone of the area's electric system." The line feeds the local 69-kilovolt transmission grid, which powers area distribution substations that in turn provide electricity to homes and businesses.
According to U.S. Census data, Noblesville's population increased from 28,590 in 2000 to 69,604 in 2020, while Westfield's jumped from 9,293 to 46,410 in the same period.
A statement from Duke Energy said the company considered factors such as safety, reliability, land use, cultural and natural resources and community input.
"The company's goal was to select a route that minimizes impact to homes, personal property, businesses, the environment and the community," Duke's statement said.
The company held five virtual and in-person open houses and received more than 1,300 comments from residents and community members during an open comment period.
Duke will seek to recover the cost of the $29 million project in a future rate case with the Indiana Regulatory Commission.
Please enable JavaScript to view this content.