Duke Energy Indiana is making plans to expand its capacity to serve fast-growing Noblesville and Westfield, but residents are worried that some of the routes it's considering for transmission lines would spoil the Midland Trace Trail and tree-lined neighborhoods.
The estimated $29 million project would include two 69-kilovolt electric transmission lines that would originate from a new substation to be built on land Duke purchased in 2019 at the southeast corner of State Road 32 and North Gray Road.
The northern transmission line will travel north to Duke's Westfield Northeast Substation, while the southern transmission line will connect to the existing 69-kilovolt line at either Carey Road and East 169th Street or between Oak Road and Oak Manor Drive in Westfield.
But precisely where those lines will go is still up in the air. Duke released two maps in early June that display about three dozen potential routes combined between the north and south transmission lines, and it's been gathering public input on the options.
The routes require installing large poles and clearing trees, but how many trees and the width of the swath of land needed depends on the route's proximity to roads and other infrastructure.
Westfield City Councilor Scott Willis, who represents neighborhoods around the Midland Trace Trail in District 1, said there are not many routes that people don't have concerns about.
"I'm sure nobody wants it in their backyard," Willis said. But he acknowledged that some of the routes generating the most concern are those that could be the easiest and most economical for Duke.
Duke says the project is necessary due to rapid growth in the two Hamilton County cities that is stressing its local electric transmission system.
The current system was installed in 1984 and includes a 230-kilovolt line that runs north-to-south, which Duke calls the "backbone of the area's electric system." The line feeds the local 69-kilovolt transmission grid, which powers area distribution substations that in turn provide electricity to homes and businesses.
According to U.S. Census data, Noblesville's population increased from 28,590 in 2000 to 69,604 in 2020, while Westfield's jumped from 9,293 to 46,410 in the same period.
McKenzie Barbknecht, a spokeswoman for Duke Energy, told IBJ the company has an obligation to meet the demand put on its electric system.
"So, as Westfield and Noblesville continue to grow, Duke Energy needs to make improvements to support that growth and continue providing reliable service to the communities," Barbknecht said. "We really need to be able to meet the growing demand for electricity in both Noblesville and Westfield and maintain the reliability and resiliency of our local power lines and infrastructure."
The fenced-in substation—called Noblesville West—would likely be about 300 feet by 300 feet.
Duke expects to select routes for the two transmission lines this fall and begin construction next year. The company plans to have the system complete in 2024, with work to mitigate damage caused by the project beginning in 2025.
Transmission lines carry energy over long distances, while distribution lines are lower-voltage lines that provide electricity to homes and businesses. The transmission lines that would be built to serve Noblesville and Westfield would be supported by 80- to 100-foot-tall, galvanized-steel poles.
According to Duke, transmission lines are more difficult to place underground and require large trenches, special vaults and other equipment that drive up the cost of installation.
Barbknecht said the $29 million cost estimate is subject to change, depending on the final routes selected. She said Duke will seek to recover the cost of the project in a future rate case with the Indiana Utility Regulatory Commission.
Anxiety about routes
To gather input about the potential routes, Duke hosted four virtual open house sessions in June and July and an in-person event at Grand Park Sports Campus that drew about 250 people. Overall, the company has received more than 1,700 comments about the project.
"Some of those are related to the project's impact on the environment, recreation, aesthetics, vegetation, property values and other topics," Barbknecht said.
The final routes will include a combination of segments, which will be selected based on a variety of factors that include public input, land use, land cover, occupied buildings, safety, reliability and cost, plus cultural, natural, visual and water resources.
Residents whose property is in the path of the chosen transmission line routes will be contacted by a land agent if an easement—a legal agreement that gives a company the right to use specific portions of land—is needed on their property. The company expects easement area widths will range from 70 feet if the transmission line is built along the road to 100 feet if the land is not close to a roadway.
Much of the angst about the proposals is centered on a proposed route that includes a large section of the Midland Trace Trail from Gray Road to just past Carey Road. Westfield's segment of the rail-to-trail project covers 3.75 miles parallel to S.R. 32 and follows the path of the former Central Indiana Railway.
Westfield residents who spoke with IBJ said large trees overhanging the trail form a canopy for people seeking a scenic bike ride or walk. They fear the trees could be lost should Duke choose the trail for part of its route.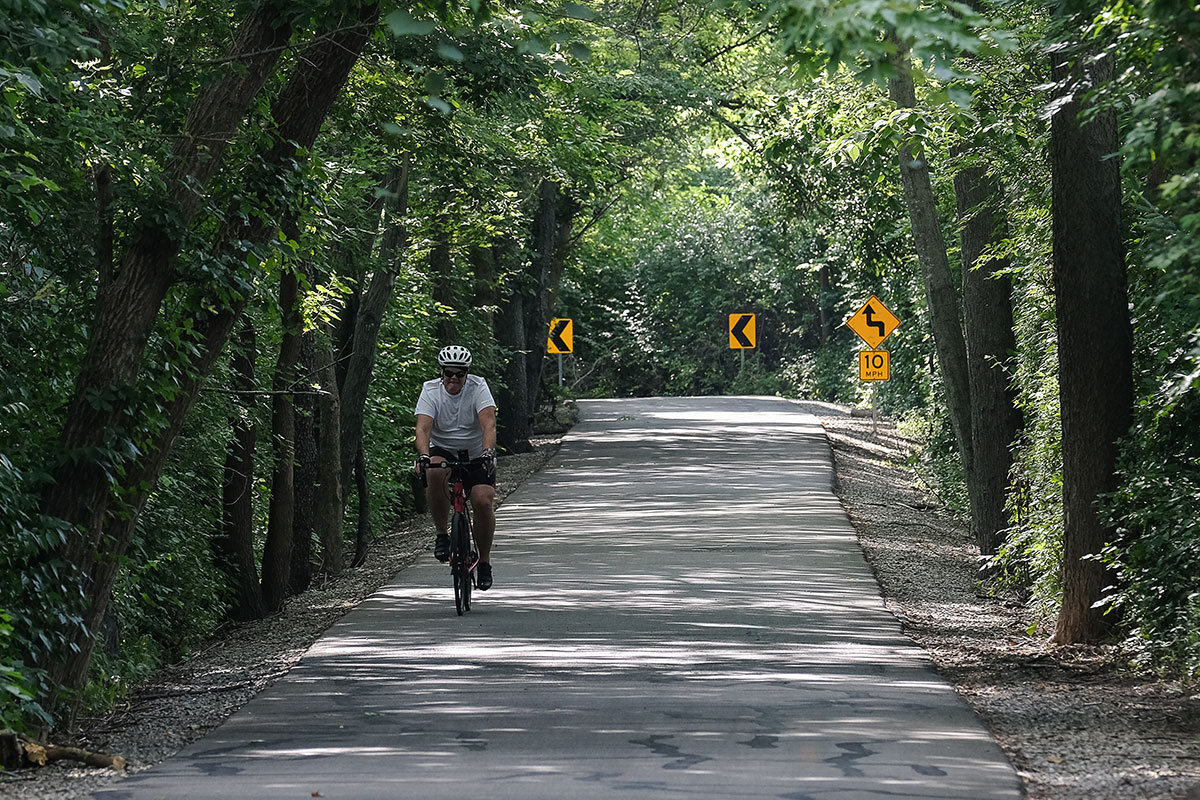 Mary Beth Lundgren, a resident of the neighboring Villages of Oak Manor housing development, said she and other residents were concerned when they received a card in the mail from Duke explaining the project.
"When we heard that Duke was going to possibly use this as a route for 80-foot-tall, galvanized-steel poles and power lines, that would really mess up what we look out on, and it would also mean eliminating many mature trees that are probably 50 feet tall or taller in order to put in those lines," Lundgren said.
Lundgren and her husband moved to Westfield in January from Madison, Wisconsin. She said they chose their home because of its proximity to the Midland Trace Trail and a wooded area on the north side of the trail.
She said Duke Energy has done a "thorough job" of listening to the public and hearing comments. However, in an effort to raise awareness of the project, Lundgren wrote a petition that received 273 signatures opposing Duke's use of the trail as a route for the transmission line.
"We love this wooded, quiet view we have, and the Midland Trace Trail is a city park, so we can walk on it a lot," she said. "We bike on it a lot and just love all the trees."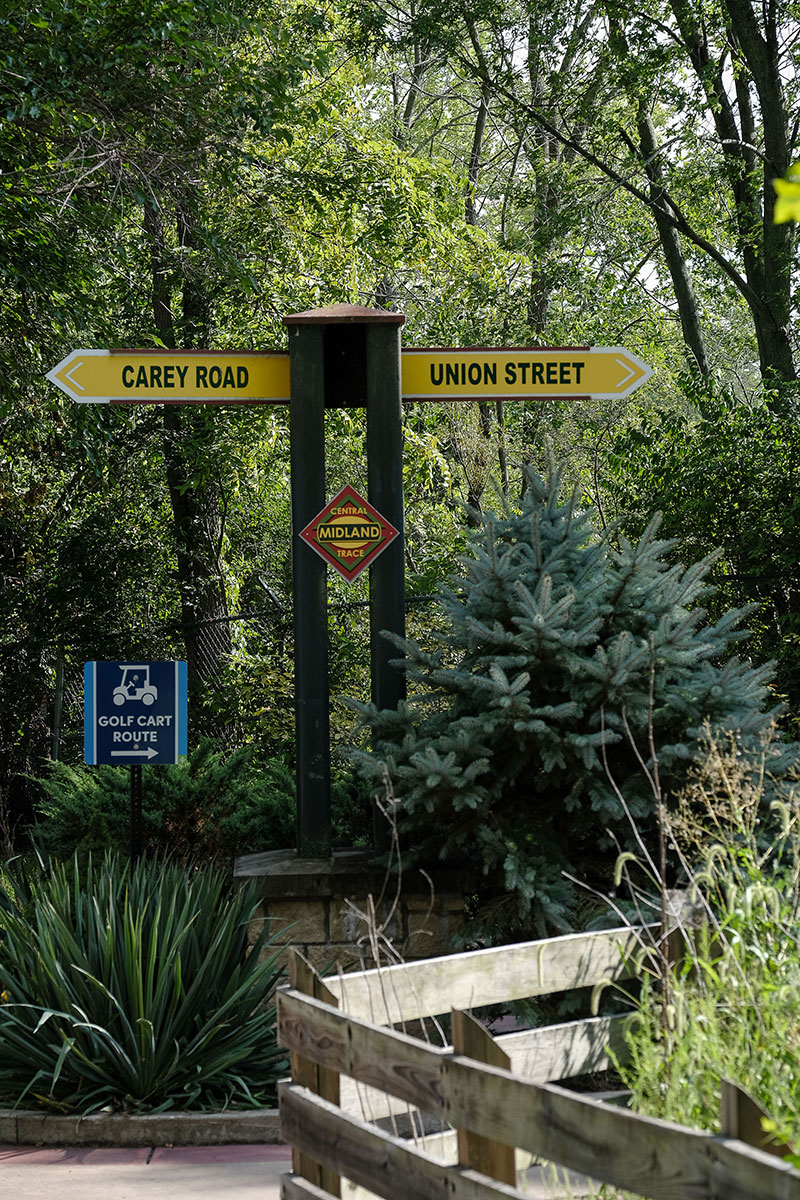 One of Lundgren's neighbors, Todd Ruhl, also said he selected his lot 2-1/2 years ago because of the wooded area behind his house. He said looking past his backyard reminds him of Brown County's forested scenery.
"I've paid a premium for that kind of lot, and I'd be sort of losing part of the reason why I bought this in the first place if they tear that all down," Ruhl said.
Barbknecht said Duke officials understand the concerns about the possible Midland Trace Trail route.
"Community input is a key piece of our route selection process, and so their feedback has been carefully documented and considered as we make a final route selection this fall," Barbknecht said.
City has 'no say'
Willis, the Westfield councilor, said he's heard from many of his constituents about concerns, not only along Midland Trace Trail but also from people who live along Carey Road and could lose large parts of their yards to the project. Oak Road, along another potential route, is also "lined with trees," he said.
Willis said he has heard from residents who prefer routes along S.R. 32 and East 169th Street.
But he added that the city has no say in which route is chosen.
"We have no seat at the table," he said. "This is Duke, and that's all based on state law and regulation and the authority the state gives to power companies. The city doesn't get to weigh in on which route we want."
Willis said he believes Duke wants to be a good corporate partner in Westfield and that the utility is "looking for the route of least resistance." The company has asked for his input on his concerns.
"I think they're going to weigh the concerns that the community has, but I'm also a realist," he said. "Certain routes will cost more money, and it is a company that's got a business to run, and so we may end up not liking that just because of the costs associated with it."
City Councilor Joe Edwards represents areas north of S.R. 32 that would be impacted by northern transmission line routes. He said he has received fewer comments, but he encouraged Duke to use existing paths, if possible.
"I think it's a thing that has to be done," Edwards said. "If they can use existing lines or existing paths to add new lines without creating a new transmission line, that would be better."
Willis said he understands that burying lines could be cost-prohibitive, but that he and other city and county leaders continue to look at every option.
"Westfield residents certainly have been paying attention," he said. "They are certainly weighing in on this and voicing their concerns, and I think a clear message has been sent to Duke about what is and isn't acceptable from a community's perspective."•
Please enable JavaScript to view this content.