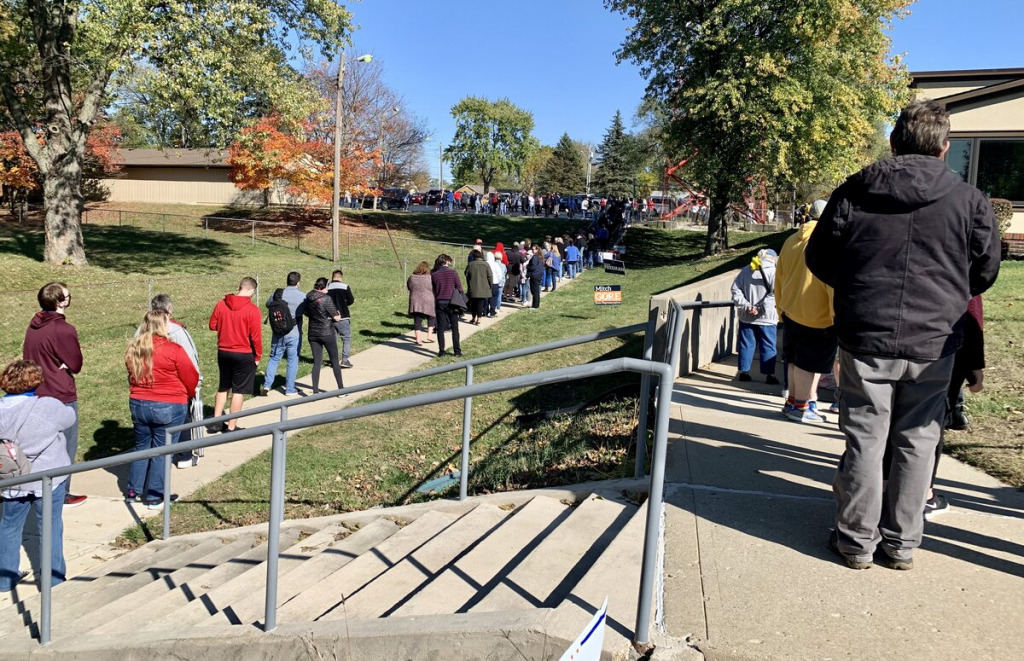 Early voting in Marion County has nearly tripled the numbers seen at this point during the 2016 presidential election as thousands of voters have submitted ballots by mail and thousands of others have waited for hours in line to cast a ballot—a frustration that voters say they aren't seeing in other counties.
Through Monday, 125,506 voters in Marion County had already cast a ballot, either in person or by mail. After 21 days of early voting in 2016, 42,751 Marion County residents had cast ballots. At the same time in 2012, the number of ballots cast had reached 32,522 and in 2008, it was 28,321.
"I think we have a lot of determined voters," said Marion County Democratic Chairwoman Kate Sweeney Bell.
Turnout skyrocketed over the weekend, as five additional in-person early voting centers opened in Marion County. Nearly 27,000 voters in Marion County have cast ballots in person since Saturday. Prior to Saturday, early voting was only available at the Indianapolis City-County Building.
During the weekend, some voters waited nearly eight hours to cast a ballot. On Saturday, 8,858 Marion County residents voted in-person and on Sunday, 8,291 individuals voted in person.
Monday saw even higher turnout, with 9,566 voters casting a ballot in person. And on Tuesday morning, a three-hour long wait time was reported at St. Luke's United Methodist Church.
A total of 55,030 voters had cast ballots in person as of the end of the day Monday.
The long wait times have sparked frustration among Marion County voters, especially as voters in neighboring Hamilton County report waiting only minutes to cast a ballot.
Hamilton County Election Administrator Beth Sheller told IBJ on Tuesday that the average wait time has been about 30 minutes.
"People are pretty pleased," Sheller said.
More than 37% of Hamilton County's 263,000 registered voters have already cast a ballot this year, and Sheller said she expects that to reach 50% before Election Day. Only 23% of registered voters in Hamilton County cast a ballot early in 2016.
But eight in-person early voting locations are available in Hamilton County, compared to six in Marion County—even though Marion County has significantly more voters, with more than 650,000 registered individuals.
"The math doesn't add up, except when you factor in Marion County is a Democratic county," Bell said.
The fight over the number of early voting locations in Indianapolis has been ongoing for years, and the available satellite locations this year were not offered in the past two presidential election years.
From 2009 until 2018, Marion County only had one early voting location—the Indianapolis City-County Building. Last year, for the November municipal election, the county opened a total of five early voting centers.
Under state law, determining the number of early voting locations requires a unanimous vote from the three-person local election board. Local Democrats have accused Republicans of blocking plans to offer additional early voting locations. The Marion County Election Board is made up of two Democrats and one Republican.
"It's so frustrating," Sweeney Bell said. "If we could change it, we would."
Marion County could easily have more early voting sites, but two people are blocking that. It takes a unanimous vote of the election board to add early voting sites, but for some reason, @jenniferping (GOP appointee) and @CindyKirchhofer (GOP Chair) are opposed to more sites. https://t.co/akmOHq3v3a

— Tim Henderson (@timh33) October 25, 2020
The number of early voting locations increased to what it is today after a lawsuit filed in 2017 by Common Cause and the NAACP challenged the legality of Marion County only having one early voting location. In 2018, a judge ruled that Marion County needed at least six early voting locations for the general election that year.
But Jennifer Ping, the Republican member of the Marion County Election Board, said the Marion County Clerk's Office proposed the early vote center plan that was approved by the board, and she knows that recruiting poll workers has been an issue that has limited how many locations can be properly staffed.
"I'm not opposed to more polling locations at all," Ping said. "I think we need to look at that in the future."
Ping said the turnout has been unprecedented, which means it would have been difficult to anticipate.
"It's almost impossible to plan for the unknown," Ping said. "You just have to plan on what you've known before."
On Election Day this year, 187 vote centers will be available in Marion County. A registered voter can cast a ballot at any of these locations—a change that was made in 2019.
This is substantially more than the 22 vote centers that were open for the primary election on June 2. At the time, local election officials said they struggled to recruit enough poll workers to open more locations.
But 187 vote centers is still less than the 270 vote centers that were available in Marion County in past years.
Russell Hollis, deputy director of the Marion County Clerk's Office, said he believes the number of vote centers for Election Day will be enough because so many voters are casting ballots early.
The polling locations will be open 6 a.m. to 6 p.m. Nov. 3. Anyone in line at 6 p.m. will be allowed to cast a ballot.
IBJ reporter Kurt Christian contributed to this report.
Please enable JavaScript to view this content.