Is the state forcing Hoosiers to put their health at risk to vote?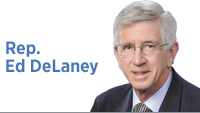 Life is often beset with difficult choices, such as: Do I take a medicine with strong side effects or try to ride out an illness? Normally, individuals seek to avoid such dilemmas. And leaders try to avoid putting their voters to such a choice. Doctors, for example, seek a third path with more hope and less risk.
At the moment, Gov. Eric Holcomb alone has the power to act like a leader or a good physician. He can let us choose to vote in a way that protects both our health and the right to vote: mail balloting for all. He won't allow us that choice. Instead, he is avoiding leadership and giving many of us two bad choices. Go to a polling place or skip voting! Nice choices.
What should a leader do when citizens face the question of whether to risk our health or our right to vote? A leader would act to reduce the risk and ease the problem of choice. He would inform us and let us decide. Holcomb has refused to lead. While he usually sets us adrift with ever-changing "guidance," in this one case, he decides for us.
In the spring, the governor made the simple decision to allow all Hoosiers to decide whether to vote by mail or in person. It worked: He gave us the chance to make an informed choice. But now, after a series of stalled "openings" and ever-changing "guidance," he has resolved to make our choice for us. If we are not elderly or out of town, we must vote in person.
I pray that it is merely a coincidence that Holcomb has chosen the path Vice President Mike Pence and President Donald Trump prefer. Those two gentlemen lifted Eric Holcomb from obscurity and made him governor. Is he grateful? Does that explain his refusal to let us choose how to vote? Does it matter to him that this can only lead to one result: fewer votes cast? Even accidental governors have a duty to lead in the interests of their people.
On a personal note, I am sick of hearing the governor say he felt safe when he chose to vote in person at my parish in the primary. Just how scary was it for him to walk across the street, along with security to keep people at bay, to a neighboring church? Does everyone have that option? Not likely. Voting shouldn't require courage, whether his vote was an act of courage or not.
Sadly, Indiana is near the bottom in voter turnout. It ranks near the "top" in restrictive rules for voters. Might we not try to reverse this just once?
There is a popular term for the situation where one has two bad options yet must choose. It is called a Hobson's choice. If we as voters can't decide how we feel safer, we will face a "Holcomb's choice": Do what he prefers or else. He alone will put us to that choice.•
__________
DeLaney, an Indianapolis attorney, is a Democrat representing the 86th District in the Indiana House of Representatives. Send comments to ibjedit@ibj.com.

Click here for more Forefront columns.
Please enable JavaScript to view this content.