For decades, state and local officials have put billions of dollars toward economic incentive deals, with recent successes that include an $800 million investment announced last year by Toyota and Elanco's decision in 2020 to build a $300 million campus in Indianapolis.
Still, industry experts say Indiana can take additional steps—on top of updating its financial incentives—to attract the kinds of multibillion-dollar megadeals that in recent months have landed in other states.
But those steps—such as boosting alternative-energy use and the education of the state's workforce—take more time than simply tweaking the incentive toolbox. So, the state is tackling all those fronts, not only proposing new incentives but also putting more emphasis on workforce training, clean energy and quality of life.
"I don't just want to compete; I want to win," Gov. Eric Holcomb said Wednesday. "We're a very competitive state, consistent. … We're the number one manufacturing state per capita in the country."
But, he acknowledged, to remain in that position, "you have to evolve."
At stake are transformational, advanced-manufacturing projects that supply the types of jobs and investments that aren't susceptible to remote-working trends—the kind of jobs Indiana has traditionally attracted. But other states are increasingly winning big manufacturing projects.
In Kentucky and Tennessee, Ford plans to spend a combined $11.4 billion to build battery production facilities and a vehicle assembly plant. In Michigan, General Motors is upping its electric vehicle output with a $7 billion investment.
And in Ohio, Intel said it plans to spend as much as $20 billion to create the world's largest semiconductor assembly facility, part of a sprawling, 1,000-acre advanced-manufacturing campus just outside of Columbus.
Those deals included robust incentive packages—so big that, in several cases, state legislatures had to step in to provide approvals that allowed jobs-creation agencies to go beyond what's typical.
It's not clear whether Indiana was in competition for the projects at all. The Indiana Economic Development Corp., the state's public-private job-creation organization, has repeatedly declined to say, citing the need for confidentiality in economic development negotiations.
In any case, experts say the fight for big companies is increasingly competitive—and in some ways unpredictable—because more states are willing to shell out big money for a promise of jobs and development.
The incentives game
The IEDC reported this week that it secured a record number of jobs in 2021, with about 300 companies committing $8.7 billion to move to or expand their operations in Indiana.
The state won those jobs largely through tax breaks that are determined at least in part through formulas set by state law and the IEDC. Headquarters-relocation tax credits, job-creation tax credits and training grants are commonly used.
For example, the IEDC in April offered $14 million in tax credits to Toyota Motor Manufacturing Indiana in exchange for a planned $800 million investment to add two electric vehicles to its Princeton plant's production line. The project is expected to bring 1,400 jobs.
In late 2020, Elanco Animal Health Inc. announced plans to invest $300 million in the state, including $100 million for a new headquarters campus just west of downtown Indianapolis that would create 1,000 jobs. The city and state provided the company up to $214 million in incentives for the project.
Those deals did not require the Legislature to get involved. But that's sometimes necessary to land a megadeal.
In West Virginia, lawmakers in January quietly approved more than $1 billion in tax breaks and abatements for a steel mill locating there. And Ohio's and Michigan's legislatures each passed measures allowing for stronger incentive packages for megadeals: Ohio is offering $2.1 billion in incentives for its proposed Intel project, while Michigan is offering General Motors nearly $900 million in incentives for automotive plants.
In Kansas, lawmakers are still mulling a deal for what development officials claim would be a $4 billion investment from a yet-unnamed company.
Greg LeRoy, executive director of Good Jobs First, a think tank that tracks and generally opposes extensive tax incentives for big companies, said state lawmakers should have the final say on big deals—and should scrutinize the offerings closely.
"Legislatures have not been good watchdogs on these, unless there's an overly adversarial relationship between the Legislature [and the administration]—and even then it would be more in the form of control over the [economic development] agency," he said. "I can't think of a place where it took the form of curbing a checkbook."
In Tennessee, as part of the Ford deal, lawmakers went back and forth over their state's commitment, before ultimately landing on $500 million in tax breaks plus hundreds of millions more for infrastructure and road construction.
Larry Gigerich, executive managing director of Indianapolis-based site selection firm Ginovus LLC, said the IEDC hasn't had "the financial weapons or tools" needed to win the biggest deals without also going to the Legislature for help.
"I think for the tools the IEDC and the state have to work with right now, they've put their best foot forward to try to win these big deals," he said, but the state "is [not going into battle with all … it needs."
Now the IEDC is trying to up its game.
A new toolbox
The agency has asked the Legislature to update the state's incentives tools to create new programs, including innovation districts (see the story about innovation districts on page 1A), and to update old ones, like the Economic Development for a Growing Economy tax credits (commonly called EDGE).
Senate Bill 361 would remove caps on the amount of individual tax credits the IEDC could award and put a $600 million overall cap on total annual incentives. In recent years, the state has awarded more than $300 million in incentives annually. In 2020, the most recent year for which totals are available, it committed $222 million to companies across the state.
Michael Huber, president of the Indy Chamber, said the move to a $600 million overall cap is helpful but still "probably not enough when you see what our competitor states and cities are doing."
The innovation districts could address that concern in part because the revenue generated and spent in them would be outside the $600 million limit. The state could pair revenue generated by the district with EDGE and other tools to sweeten its offers.
The bill also gives the IEDC the ability to extend EDGE credits for 20 years, double the number today.
Gigerich said the changes are welcome, adding that they're likely to help Indiana at get its foot in the door for larger projects.
"I think the effort and the plan to put together this new toolbox [can] help the state compete for these large projects," he said.
Indiana already has a handful of tools for things like venture capital efforts, community revitalization, data centers and jobs training, along with industrial projects, each focused generally on direct tax credits for job creation or grants for redevelopment. But Gigerich said creating additional incentives focused on sustainability efforts and workforce retention could further help the state woo more advanced industries. Those efforts aren't part of the current bill.
Michigan has a dedicated program for the automotive industry. Kentucky has a tax credit for environmentally focused efforts, like agribusiness, alternative fuels, gasification and renewable energy production. North Carolina and Texas have funds controlled by the governor that can act as "quick cash" to close big deals. Ohio has a reinvestment-area designation that's like the innovation district proposal, and North Carolina and South Carolina each have "megasite" designations.
The innovation district concept could help Indiana compete, supporters say, because it would create a stronger partnership between the state and whichever municipality is competing for a project.
"This would provide us with a tool to be able to develop those megasites, potentially—get them ready for development—and ultimately land a transformative project within the state's regional communities," said Mark Wasky, IEDC senior vice president of community affairs.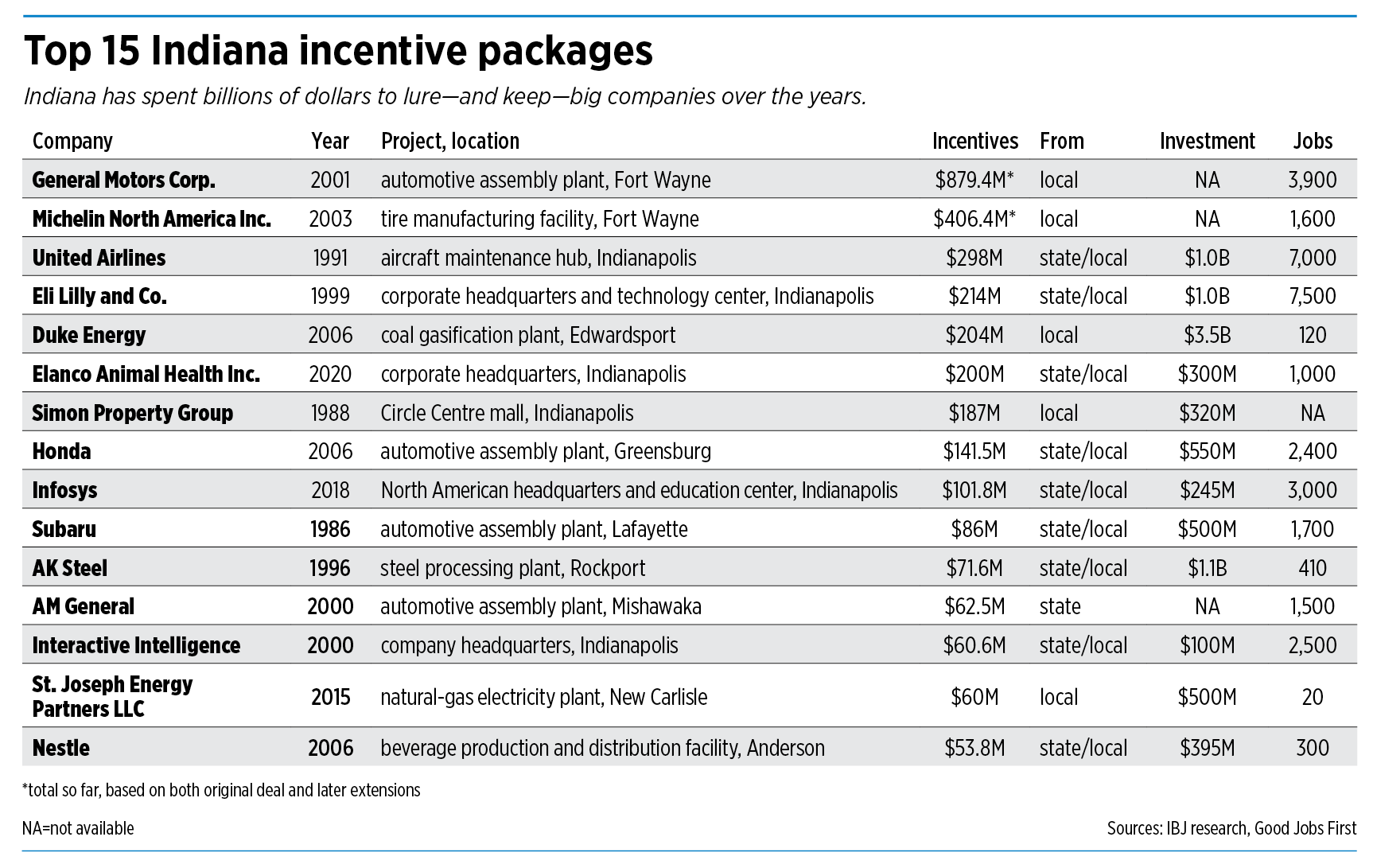 Workforce factors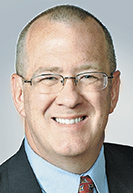 Michael Hicks, an economics professor at Ball State University, said even with changes to the state's incentives, it might take years before Indiana can compete for mega projects. That's in part because Indiana's talent pool isn't as educated as the workforce in neighboring states and because many graduates tend to find jobs elsewhere.
Only about 27% of Indiana residents have a bachelor's degree or higher, according to the latest data from the 2020 U.S. Census. That's 44th in the country, and lower than the national rate of 33%. At 25%, Kentucky is Indiana's only neighbor with a lower percentage of college grads.
"We don't have the economic environment—we don't have the quality of the labor force—to even be competitive in many of these deals," Hicks said.
That's something the state—through the Indiana Higher Education Commission and Department of Workforce Development—has been trying to improve.
Six months ago, Holcomb announced that more than 50,000 Hoosiers had enrolled to complete a high-demand certificate program through the state's new Next Level Jobs Workforce Ready Grant, which provides tuition-free certificates in five of the state's most sought-after sectors, including advanced manufacturing.
The program is part of an effort to ensure at least 60% of Hoosiers have a college degree or another credential beyond a high school diploma by 2025. Currently, 48.3% of Hoosiers hold an industry certification, short- or long-term credential, associate degree or higher. That attainment level has increased nearly 15 percentage points since the state began tracking educational attainment in 2008, according to the higher education commission.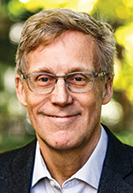 Raising that to 60% in three years will likely be difficult, but Mark Muro, a senior fellow and policy director at the Washington, D.C.-based think tank Brookings Institution, said Indiana isn't alone in its struggles to maintain a strong workforce. Still, he said, those challenges dissuade interest from new employers.
"Talent and workforce availability in sufficient volume are almost always the most critical issues," he said.
The IEDC has tackled the workforce challenge as well through training grants and is looking to attract talent through investments in quality-of-life projects. The Legislature is also considering giving remote workers who move to Indiana grants of up to $15,000.
Energy impacts
The state also struggles to compete because its power generation comes mostly from fossil fuels—including a big chunk from coal. For years, before federal regulations cracked down on coal-plant emissions, that cheap energy gave Indiana an advantage.
But today, corporations are putting an increasing emphasis on sustainable business practices—and for manufacturers, using power generated by alternative energy is a huge plus. So, locating in a state where the power mix is already greener is attractive.
The total share of Indiana's energy production from renewables, including solar and wind, was 8.2% in 2019. By comparison, North Carolina and Tennessee—both states where environmentally focused companies like GM and Apple have opted to invest—were at 12.7% and 13.9%, respectively. Ohio, however, was at only 2.7%.
The situation is improving for Indiana—as it is elsewhere. The state was in the middle of the pack in its increase in reliance on renewable energy from 2010 to 2019, according to data from the U.S. Department of Energy.
But it has big projects coming online, including Israel-based Doral Renewables Mammoth Solar, a three-phase project with a $1.5 billion investment. The project, the largest in the country, will eventually put 1.3 gigawatts of energy on the grid.
And Chambers, who became Indiana's commerce secretary last year, has made renewable energy one of his priorities.
That's important as well because energy produced from fossil fuels, especially coal, has become increasingly expensive. Indiana's energy costs have moved from one of the lowest to among the more expensive.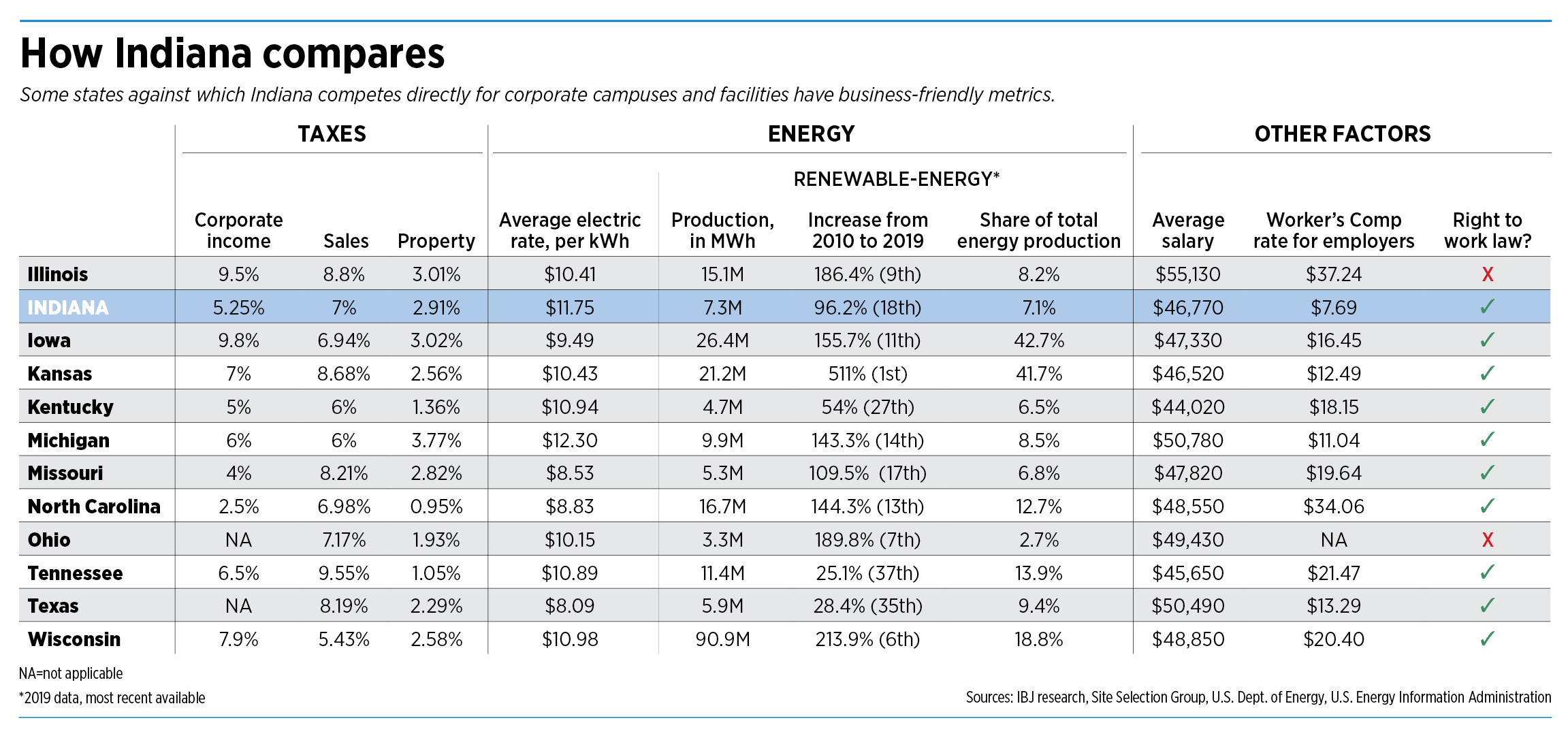 Other factors
Chambers' strategy for the IEDC will address other factors that could help Indiana compete. One is a focus on entrepreneurship so Indiana can grow companies that create jobs, rather than simply trying to attract them.
Huber said that's important.
"We need to do a better job growing the entrepreneurial ecosystem, so we can support the next Exact Target, which becomes Salesforce," he said.
"But then we also need to be really competitive when companies are eyeing the Midwest or diversifying their operation, because it's not a zero-sum game—these corporate expansions are capital-intensive."
And Muro said Indiana should focus on companies that are within the industries where it's already strong.
"The state is clearly good at biopharma and biopharma manufacturing," he said, pointing to firms like Eli Lilly and Co. and Catalent. He added that the state could also position itself to better compete in spaces where companies are already looking to make major investments.
"The state has much work ahead of it to assess how to compete best in the big areas of future competition: chips, [electric vehicles], related batteries [and] more biopharma," he said.•
Please enable JavaScript to view this content.