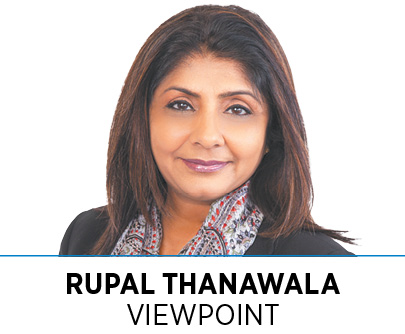 I recently participated in a survey with a large group of Asian American professionals about our emotional response to Asian American hate crimes and racism in one word. The top answers were frustrated, discriminated, angry, unsafe, marginalized and suppressed.
For the first time, many participants spoke out about their bitter experiences at schools, public places, work, neighborhoods and businesses.
It was very uncomfortable for them to speak about racism, microaggressions and injustice because they were made to believe for years that there is no such thing as Asian American racism or they are not allowed to talk about it. They felt they were treated as less than Americans, expected to do more than their peers and yet not receive equal treatment. That's the result of "model minority myth" and historical oppression of Asian Americans for more than 200 years by discriminatory laws and policies that Asian Americans are forced to stay quiet.
A series of events over the past year has pushed Asian Americans to the edge, and we felt enough is enough. The politicization of the pandemic, the surge in hate crimes, the Atlanta mass shooting and finally now, the FedEx shooting have shaken us to the core.
It is not about Asians. It is about all of us; we are your fellow American citizens.
Here are things to consider:
Safety and respect: An analysis released by the Center for the Study of Hate and Extremism at California State University, San Bernardino, found 3,800 incidents involving Asian Americans registered last year, which is 150% more than the previous year. Many cases of harassment happened in public places and 8% involved physical harassment. Two major gun violence cases claimed the lives of 10 Asians—and a thorough investigation must be performed for the motive of the crime. Many small business owners are subject to harassment for years that goes undocumented. They need to be protected.
Be an ally: Stand in solidarity with Asian Americans. Use your privilege to amplify (digitally and in person) historically suppressed voices. Don't be a bystander; take action to dismantle racism. If you see it, stop it. Everyone can make a difference.
Acknowledge and advance: It is time for leaders to acknowledge injustice, be empathetic and build safe spaces where people feel valued, respected and heard. Speak out about your commitment to diversity, inclusion and equality and set the expectations for your organizations on how you will implement change and be accountable. Empower, enable and elevate Asians to leverage their full potential. Support Asian American organizations in your communities.
Policies and procedures: Take a look with fresh eyes at policies and procedures in your organizations. Many corporations and institutes have disparity in human resources policies that disproportionately discriminate against Asian Americans.
Education: ` Many have come here to study, work, raise a family or live here for decades. Please take a moment to learn about their culture, food, arts, religions and languages.
Gun violence: This is one of the most divisive topics, but we need tighter gun control laws, a ban on assault weapons and detailed background checks. We are losing too many lives daily to gun violence. We can't go on like this.
We have found a vaccine for COVID-19. Now we need to find a cure for racism.•
__________
Thanawala is president of Asian American Alliance Inc. Contact her at rthanawala@yahoo.com.
Please enable JavaScript to view this content.