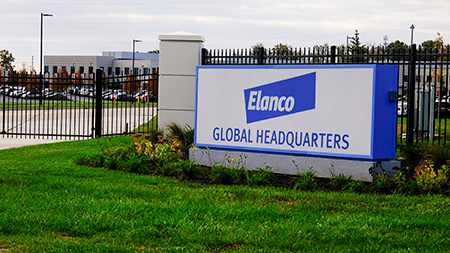 Shares of Elanco Animal Health Inc. fell as much as 12% Tuesday morning after the Greenfield-based maker of animal medicines said fourth-quarter revenue fell due to "environmental and competitive pressure" and could continue to slip this year.
The company lost $54 million in the fourth quarter, or 11 cents a share, compared to a loss of $104 million for the same period a year earlier.
On an adjusted basis, Elanco posted income for the fourth quarter of $95 million, or 19 cents a share. That beat Wall Street's consensus estimate of 11 cents a share, according to Zack's Research.
"As we look to 2023, we recognize environmental and competitive pressures will persist, but are encouraged by strengthening Elanco tailwinds from price, innovation and improving supply," CEO Jeff Simmons said in written remarks.
Simmons said the company had a productive year, with eight product approvals in major markets. It also made the initial U.S. submission of two "differentiated pet health potential blockbusters," consisting of a broad-spectrum parasiticide and a dermatology medicine.
But some analysts warned that the company could run into stiff headwinds.
"The company is seeing more than its share of pressure from competition (parasiticides) and from macro challenges (retail channel)," JP Morgan analyst Chris Schott wrote in a note to clients Tuesday. "And with interest expenses and costs going up, the company will see significant (earnings) pressure in 2023."
The company posted fourth-quarter revenue of $988 million, down 11%. It said revenue for full-year 2023 is likely to be flat to down by as much 3%. It forecasted full-year revenue in a range of $4.28 billion, to $4.4 billion.
Shares of Elanco fell 12.2%, to $11.52 each, in midday trading amid a down day for the market, as the NASDAQ dropped about 2.1%. Elanco shares are down 58% from their 52-week high.
For full-year 2022, sales declined in major categories, including pet health (down 9%), farm animal (down 5%) and contract manufacturing (down 34%). Total revenue fell 7%.
Elanco is in the process of building a new $100 million company headquarters west of downtown on the former General Motors stamping plant.
Please enable JavaScript to view this content.