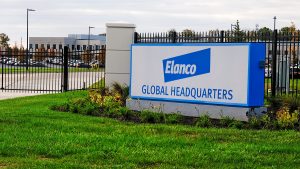 Elanco Animal Health Inc. announced Wednesday morning it will buy Kindred Biosciences, a San Francisco-based company developing dermatology medicines for pets, for about $440 million.
The deal would boost Greenfield-based Elanco's profile in the billion-dollar pet dermatology market and continue its acquisition strategy since closing its $6.9 billion purchase of German conglomerate Bayer AG's animal-health division last summer.
In a joint statement, the companies said Elanco will acquire all outstanding stock of Kindred Biosciences at a price of $9.25 a share, a premium of 52% over the stock's 30-day average.
Kindred has about 60 employees that will transfer to Elanco as part of the deal. Elanco has about 10,000 employees.
Kindred is primarily a pipeline company, with just two products on the market. But it is developing three other dermatology products for pets characterized as "potential blockbusters."
Kindred had revenue of $42 million last year. It lost $21 million from continuing operations.
Elanco said the deal has the potential to add a full percentage point of annual revenue growth starting in 2024.
Elanco said the combination would add approximately $100 million to its previously stated innovation revenue expectation of $500 million to $600 million by 2025.
"This highly complementary combination is focused in one of the most exciting spaces in pet health, and one where we see a strategic imperative to build a differentiated competitive offering," said Jeff Simmons, president and CEO of Elanco, in written comments.
The acquisition agreement builds on Elanco's existing relationship with Kindred, which began with licensing the global commercial rights of Kindred's late-stage treatment for canine parvovirus.
"With this transaction with Elanco, a widely respected leader in veterinary medicine with global reach, we will maximize the impact our innovative pipeline will have on improving the lives of pets," said Richard Chin, CEO and co-founder of KindredBio, in written comments.
Elanco said it intends to fund the acquisition with debt. It expects the transaction to close in the third quarter of 2021.
Elanco also reaffirmed full year 2021 revenue guidance of $4.67 billion to $4.71 billion.
Please enable JavaScript to view this content.