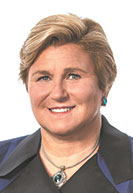 The chief executive officers of Indianapolis-based Elevance Health Inc. and Columbus-based Cummins Inc. are ranked in Fortune's 2022 list of "The 50 Most Powerful Women." The publication says this year's list is the first that combines women from U.S.-based and international companies.
Elevance CEO Gail Boudreaux is ranked No. 9 on this year's list. The publication highlight's Boudreaux's leadership through the company's rebranding from Anthem to Elevance.
"Even with the new name, its main business remains insurance. Enrollment jumped by 2.4 million members last year, in part driven by acquisitions," the ranking said.
Cummins CEO Jennifer Rumsey, who was named to her position earlier this summer, is ranked No. 45 on the list.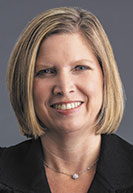 Fortune highlighted Rumsey's two decades at Cummins, where she served as chief operating officer before being named CEO. The publication noted Rumsey helped lead the manufacturer through supply-chain shortages and drive its 21% year-over-year revenue growth to $24 billion in 2021.
"I am truly honored to be included alongside these powerful women leaders," Rumsey said in written remarks. "My life and career have been shaped by instrumental people who helped me see my potential, created an environment that allowed me to be who I am at work, cared about me and enabled me to achieve my aspirations. This recognition is a reflection of the impact a strong support system, encouraging mentors and an inclusive environment can have."
CVS Health Corp. CEO Karen Lynch topped the list for the second consecutive year, followed by Accenture CEO Julie Sweet and Citigroup Inc. CEO Jane Fraser.
Please enable JavaScript to view this content.