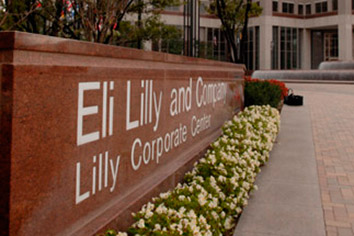 Eli Lilly and Co. announced Monday that it has started dosing human patients with a potential treatment for COVID-19.
The Indianapolis-based drug maker said the Phase 1 study of antibody treatment LY-CoV555 is under way at major medical centers in the United States, including NYU Grossman School of Medicine and Cedars-Sinai in Los Angeles.
Lilly said LY-CoV555 is the first potential new medicine specifically designed to attack SARS-CoV-2, the virus that causes COVID-19.
Lilly scientists have developed the treatment over the past three months using an antibody identified by Vancouver-based AbCellera Biologics Inc. from a blood sample taken from one of the first U.S. patients who recovered from COVID-19.
The treatment is designed to block attachment and entry of the novel coronavirus into human cells, potentially preventing and treating COVID-19.
Lilly said the placebo-controlled study will assess safety and tolerability in patients hospitalized with COVID-19. Results are anticipated by the end of June.
If Phase 1 results show the antibody can be safely administered, Lilly plans to initiate a Phase 2 proof-of-concept study in non-hospitalized COVID-19 patients to assess efficacy in vulnerable populations.
Dr. Daniel Skovronsky, chief scientific officer and president of Lilly Research Laboratories, said Lilly has already started "large-scale manufacturing" of the potential treatment.
"If LY-CoV555 becomes part of the near-term solution for COVID-19, we want to be ready to deliver it to patients as quickly as possible, with the goal of having several hundred thousand doses available by the end of the year," he said.
Lilly said it is researching multiple approaches to treating COVID-19. Existing Lilly medicines are being studied as potential treatments, and the company is collaborating with multiple biotech companies to discover new antibody treatments.
Share of Lilly rose about 2% in premarket trading after the human trials were announced, but the stock was down about 1% in late-morning trading, to $151.20 per share.
Please enable JavaScript to view this content.