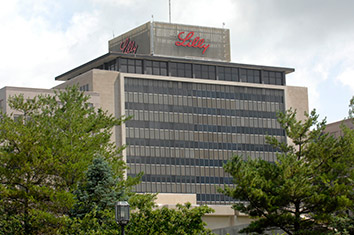 Indianapolis-based Eli Lilly and Co. said Tuesday that it has stopped exporting "non-essential" medications to Russia in response to the country's invasion of Ukraine.
Additionally, the pharmaceutical giant said in a statement that it had "suspended all investments, promotional activities, and new clinical trials in Russia."
Lilly said it would continue providing life-saving drugs to Russia. The company is one of the world's largest sellers of insulin for diabetes and markets several cancer medications, including Alimta, Erbitux and Cyramza.
"Our Russian operations are now only focused on ensuring people suffering from diseases like cancer and diabetes continue to get the Lilly medicines they need," the company said. "Should we generate any profits from our sales in Russia, we will donate them to organizations dedicated to humanitarian relief."
Lilly joins several other drug companies that have reduced operations in Russia to various degrees, including Novartis, AbbVie, Johnson & Johnson, Bayer, Abbott Laboratories and Pfizer.
"For nearly 150 years, Lilly has worked to ensure patients have access to the medicines they need, no matter where they may live," the company said. "We have an ethical and moral obligation to help alleviate human suffering and to protect the lives of patients."
On March 3, Lilly announced it was donating $7.5 million worth of insulin and $1.8 million worth of the COVID-19 treatment baricitinib to two different U.S. not-for-profits doing humanitarian relief work in Ukraine.
In addition, it said Lilly's corporate foundation was donating $500,000 to each of two humanitarian agencies doing work in the region, and matching employee donations up to an additional $500,000.
Russia and Ukraine represent a small fraction of Lilly's business. Revenue from the countries combined accounted for less than 1% of sales last year, the company said. Lilly's 2021 revenue was $28.3 billion.
Please enable JavaScript to view this content.