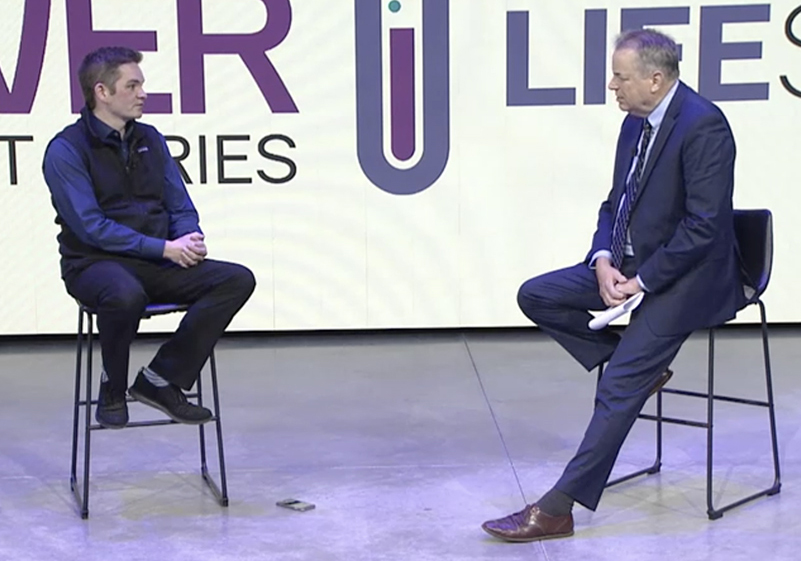 Eli Lilly and Co. is working "around the clock" to get data on clinical trials for its experimental antibody therapy for COVID-19 to federal regulators, and hopes to hear back within weeks whether the medicine is deemed safe and effective to distribute to patients.
That's according to Andrew Adams, a vice president at Lilly who is overseeing all of the Indianapolis-based drugmaker's COVID-19 research. Adams discussed the process during IBJ's Life Sciences Power Breakfast panel discussion on Friday morning. (See video below)
"What I can tell you, and my wife can confirm, is we've been working around the clock to get this data to the FDA to allow for a vigorous review," Adams said. "The FDA—we would always take the opportunity to commend them—is working hard as well, in lockstep with us, evenings and weekends to get this review expedited."
Lilly said on Wednesday it asked the government to allow emergency use of its experimental antibody therapy, based on positive early results from a study that suggested the drug reduced symptoms, the amount of virus, hospitalizations and ER visits for patients with mild or moderate COVID-19.
The drug is similar to one that President Donald Trump received on Friday from Regeneron Pharmaceuticals Inc. These medicines supply concentrated versions of specific antibodies to help the immune system clear the coronavirus that causes COVID-19. They're given as a one-time treatment through an IV.
Lilly scientists developed the treatment using an antibody identified by partner AbCellera Biologics Inc. of Vancouver from a blood sample taken from one of the first U.S. patients who recovered from COVID-19.
The antibody therapies are not vaccines and they are not cures, but they are among the most promising therapies being tested for treating and preventing coronavirus infections. The disease has already claimed more than 1 million lives worldwide, including more than 212,000 in the U.S.
As of Wednesday, more than 131,000 Hoosiers have been infected with COVID-19, and 3,534 have died, according to the Indiana State Department of Health.
With no vaccine on hand yet, the rising death toll has pressured regulatory agencies around the world to approve drugs for treating patients who had COVID-19, such as Lilly's experimental antibody treatment, if clinical trials show they meet standards for new medicines.
"As soon as the FDA can make the determination the medicine is safe and effective, then I think we'll be proceeding," Adams said. "We hope that would be in the coming days and weeks."
Lilly has already begun manufacturing the drug, and expects to have 100,000 doses on the shelf by the end of October. By December, it expects to have 1 million doses.
"And that's just the tip of the iceberg," Adams said. "We're partnering with Amgen and the Bill and Melinda Gates Foundation to drive up that supply as fast as we can. Next year, we would expect to see much larger volumes of medicine being available."
Lilly CEO Dave Ricks said on Wednesday he expects demand for the treatment to be greater than supply, and until Lilly can scale up, the company will have to prioritize how it distributes the drug.
Lilly said it plans to prioritize those people who need the medicine the most, beginning with seniors and people with pre-existing conditions.
Please enable JavaScript to view this content.