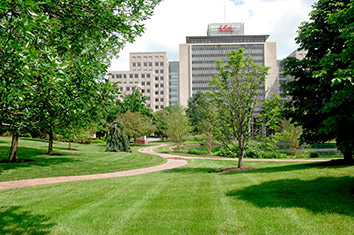 Indianapolis-based Eli Lilly and Co. filed a complaint with the U.S. International Trade Commission on Thursday to block companies from importing and selling cheaper versions of its blockbuster drug Mounjaro online, accusing them of misleading and endangering American consumers seeking to lose weight.
The drugmaker accused 11 companies of importing products that they say contain tirzepatide, the active ingredient in Mounjaro, while falsely implying that their products are associated with Eli Lilly or approved by the Food and Drug Administration. One company selling tirzepatide online advertises that its product has a purity greater than 99 percent; however, according to Eli Lilly, it is actually just sugar alcohol.
By suggesting that their products are equivalent to FDA-approved Mounjaro, Eli Lilly says, the companies are cutting into its sales and engaging in conduct "gravely dangerous to consumers who unknowingly inject themselves with research chemicals not designed or intended for use in humans."
Eli Lilly's complaint is the latest legal battle over sensationally popular medications that treat diabetes and also suppress appetite, helping people achieve unprecedented degrees of weight loss with once-a-week injections. Eli Lilly and Novo Nordisk, the maker of Ozempic and Wegovy, have also sued compounding pharmacies and med spas that make and market off-brand versions of their FDA-approved drugs.
The complaint to the trade commission, however, targets companies that sell their compounds directly to consumers online, often without a prescription that would be required for Mounjaro and other FDA-approved drugs. Eli Lilly is seeking an order from the federal agency that would bar all imports of products that violate fair trade provisions, such as the infringing of its trademark, as well as cease-and-desist orders to the individual companies it has targeted.
An examination by The Washington Post found more than two dozen websites selling tirzepatide or semaglutide—the active ingredient in Ozempic—that generally say they are for research use only. One website refers to this as a "disclaimer to stay in business." The operator of another site openly acknowledged selling them to people, saying the products were safe.
Eli Lilly targeted companies that it says import their products from overseas, selling them for about a tenth of Mounjaro's $1,000 list price for a month's supply. The firms can undercut Eli Lilly on pricing, the drugmaker says, "by using cheaper foreign labor and inferior ingredients and processes." At the same time, Eli Lilly argues, the companies are effectively piggybacking on Eli Lilly's research and development of Mounjaro by referencing the drug by name, referring to its FDA approval or citing Lilly's clinical trials. These factors, coupled with the ease of buying the imitation products online, cause "substantial injury to Lilly's domestic industry," the company says.
In one example, Lilly cites a Chinese company doing business as AustroPeptide that sells tirzepatide online. Although the website doesn't mention the FDA, Lilly argues that AustroPeptide's description of the compound is "intended to mislead a purchaser into believing" that its products "have been approved by FDA for human drug use when they have not." Lilly's own testing found that the product "did not contain any tirzepatide" but was instead consistent with a common sugar alcohol, according to the complaint.
AustroPeptide did not immediately respond to a request for comment.
The FDA has warned consumers against buying compounds from unlicensed sources. Earlier this month, the agency issued warning letters to two firms selling weight-loss compounds online for what it called "illegally marketed semaglutide."
Eli Lilly brought in more than $1.4 billion from selling Mounjaro in the United States for the first half of 2023, according to its financial statements. Mounjaro, as well as Eli Lilly's other weight-loss prospects in development, have helped boost its stock price by 60 percent so far this year, giving it a stock-market value of about $560 billion—the biggest of any U.S. pharmaceutical firm, according to S&P Global Market Intelligence.
Mounjaro, Ozempic and Wegovy have proved so popular that their manufacturers haven't been able to keep up with demand, leading the FDA to declare the drugs in short supply. That designation has opened the door for compounding pharmacies to mix up versions of the FDA-approved drugs, giving rise to an industry built on selling the off-brand versions cheaply.
Eli Lilly emphasized in the complaint that it has invested heavily in expanding capacity to make Mounjaro. As of Thursday, all dosages of the drug were listed as available on FDA's drug shortage database, though the agency hasn't yet removed it from the list.
"We don't resolve a shortage until the national demand is being met, which includes the firm being able to fill all orders, with no back-orders and safety stock built up in reserve to prevent further intermittent back-orders," an FDA spokesperson said.
Please enable JavaScript to view this content.