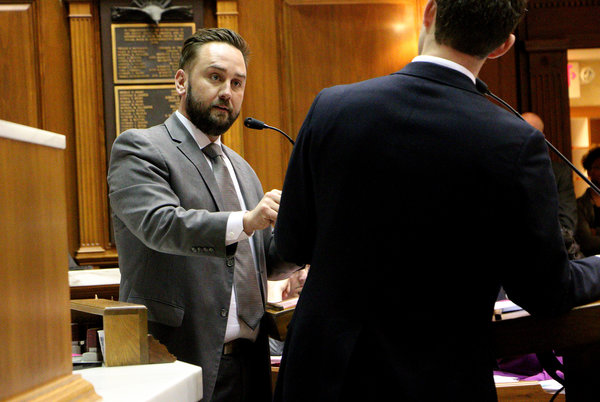 State Rep. Dan Forestal, a Democratic state lawmaker facing charges of drunken driving and impersonating a public servant, said Tuesday afternoon that he will not seek re-election to the Indiana House so he can "focus on my mental health."
Minutes later, City-County Councilor Blake Johnson—also a Democrat—announced that he had filed his candidacy for the District 100 seat.
In a statement, Forestal said, "This has been one of the hardest decisions of my life."
"I hope that we as a society continue to work together to shatter the stigma around mental health issues," he continued.
Forestal was arrested in August after police received a call about a man claiming to be a police officer. He was later charged with impersonating a public servant, driving while intoxicated and resisting law enforcement.
The 36-year-old Forestal, whose case is pending, was first elected to the House in 2012 and re-elected every two years since then. He has been suspended from his position as an Indianapolis firefighter.
The Indianapolis Star reported last week that Forestal recently sent a letter to Democratic leaders saying that the past summer "was a time of extreme challenge and difficulty for me personally" but that he planned to work hard "every single day to overcome these challenges and to conduct myself in a manner which I hope will restore your faith in me."
Johnson, 33, is the CEO of IndyHub, a not-for-profit that connects young adults with community opportunities. He is in his second term on the City-County Council, representing District 12, which includes portions of the city's east side.
"I love Indianapolis and have had the honor of dedicating my professional life and public service to the goal of making it a better place for this and future generations," Johnson said in a statement. "I am excited by this new opportunity to serve, and I look forward to important conversations about how we can continue to move our neighborhoods forward."
Johnson was recently named chairman of the council's Administration and Finance Committee, which oversees the $1 billion city budget.
Prior to joining IndyHub, Johnson worked as an aid to U.S. Rep. Andre Carson.
Please enable JavaScript to view this content.