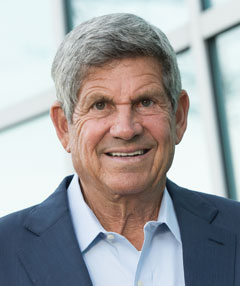 Emmis Corp. will be open to entertaining offers to buy or lease space in its Monument Circle headquarters once the sale of its Indianapolis radio stations closes later this year, according to Chairman, CEO and founder Jeff Smulyan.
The company previously known as Emmis Communications Corp. owns the 120,000-square-foot building at 40 Monument Circle. Smulyan, chairman, CEO and founder of Emmis, said the company is weighing all its options for what could be done with the property.
"We're going to have some space, so we want to figure out the best place to deploy that," Smulyan said. "Never say never on anything, in terms of whether we'll sell the building—I just don't know yet. But our sense right now is we just want to explore all of our alternatives."
The $25 million deal with Baltimore-based Urban One Inc., announced in June, will see Emmis offload all of its Indianapolis-based stations. The sale is pending Federal Communications Commission approval, which Smulyan said he expects will come in the next "four to six weeks."
The sale includes WIBC-FM, WYXB-FM 105.7 (B105), WLHK-FM 97.1 (Hank FM), WFNI-FM 93.5 and 107.5 (both known as The Fan) and Network Indiana, which provides news, talk and sports programming to more than 70 stations in Indiana.
On Wednesday, the company confirmed it had eliminated eight jobs, including that of longtime WIBC reporter Eric Berman, because there were not positions for them at Urban One.
About 177 people currently work in the Monument Circle headquarters, but most will vacate their space in the months following the sale. Roughly 77 full-time and 55 part-time employees worked for the radio stations alone when the sale was announced.
The building, completed in 1998 for about $40 million, is nine stories tall and features a 250-space parking garage, as well as an oversized atrium.
Early designs of the building called for its upper floors to include retail and have a direct connection to Circle Centre Mall, but the concept was abandoned after plans for The Conrad Indianapolis hotel were first proposed in the early 2000s. The Emmis property also was previously eyed for a third Circle Centre anchor store, but the company was approached to build there after those plans never materialized.
Even if Emmis sells its building, Smulyan said he is hopeful the company's offices will remain in there, particularly since the city and civic booster organization Downtown Indy Inc. are trying to make Monument Circle more attractive to visitors and pedestrian-friendly. The Department of Public Works continues to push for a complete rebuild of the roadway itself—an effort that has been simmering since 2014.
"We think it's a great place to be and I think any plans for improvement can only further enhance" the atmosphere for office workers, Smulyan said.
He added the Emmis team has had discussions with original designer Ratio Architects about how to modify the space to make it more appealing and efficient for other users.
"We have an atrium that is larger than we really need, so we've asked Ratio … if, as we go into the future whether there is a more efficient floor plan. We're exploring all that now," Smulyan said.
He said several conversations have taken place with office brokers, but nothing has been finalized.
The Emmis building isn't the only prime Monument Circle real estate in transition.
For the past five years, the former Anthem Inc. headquarters building at 120 Monument Circle has been mostly vacant, save for a few retail storefronts. In fact, the building is considered one of the most prominent pieces of office real estate available in the city, with four floors and nearly 214,000 square feet.
A representative for the building's Massachusetts-based owner, Franklin Street Properties, declined to discuss the property with IBJ.
Likewise, Expansive, which owns Circle Tower at 55 Monument Circle, has available space in its 13-story building. So, too, does One Monument Circle (which is home to IBJ Media Corp., parent company of Indianapolis Business Journal), which is owned by AES Indiana.
John Vandenbark, an office broker with the Indianapolis office of Chicago-based firm JLL and the former listing agent for the Anthem property, said he expects there will be an increase in demand for office space on the Circle as more people return to the office, but noted it's incumbent upon the owners to think creatively about how that space can best be used and marketed.
"There's value there—I don't want to destroy value by making a statement that [the available office space] needs to be something other than what it is, because I don't know that that's the case," Vandenbark said. "But it doesn't mean that somebody can't get creative. But that usually requires money."
Please enable JavaScript to view this content.