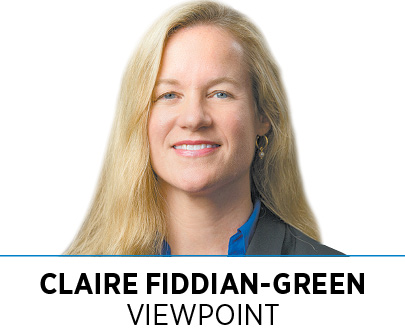 Companies' ability to thrive is inextricably linked to their capacity to hire and retain qualified people. In today's global economy, it is more important than ever to attract talent that reflects an increasingly diverse population.
By this measure, Indiana businesses face a threat that, if unaddressed, could become existential: Far too few Black and Hispanic students are being adequately prepared for success after high school.
The result is a small pool of diverse talent with the skills necessary for most careers. This should be concerning for businesses seeking to ensure their employees reflect the demographic characteristics of their customers. It is also detrimental for the individuals who struggle to earn a livable wage, and the communities in which they live.
Two recent reports—by the Richard M. Fairbanks Foundation and by Business Equity for Indy—paint a disturbing picture of this challenge.
In Marion County, of the 3,077 Black and 906 Hispanic students who graduated from high school in 2013, just 442 Black and 130 Hispanic students graduated from an Indiana public postsecondary institution by 2020 with either a two-or a four-year degree.
What's behind these low completion rates? Both reports find wide racial disparities in education and employment opportunities and outcomes.
These gaps emerge in early childhood education, continue within the K-12 and postsecondary systems, and extend into the workplace. For example, median annual wages five years post-graduation for Hoosiers who earn a bachelor's degree are about $49,000 for white adults compared to about $41,500 for Black adults.
While these wage disparities are concerning, it is equally concerning to see the wage differences between individuals with a high school diploma and those with a college degree. Five years after graduation, Hoosiers with only a high school diploma earn about $29,000 annually—far below a livable wage of $38,000.
In Marion County, 43% of adults age 25 and older have a high school diploma or less. While some can successfully support themselves with this level of education, others struggle to do so.
Another cause for alarm is the statewide decline in college enrollment rates over the last decade, down from 67% in 2008-2009 to 58% in 2018-2019. The decline is even steeper for Indiana's Black high school graduates, down from 63% to 50% over that same period.
If we are to build a robust pipeline of diverse talent that meets the needs of employers both today and in the future, we must ensure all students—regardless of race or other characteristics—have equal opportunity to obtain a high-quality education.
A foundational first step is ensuring all Hoosiers have easy access to detailed data about education and employment opportunities and outcomes. Next, we need to take actions guided by this data, such as raising awareness about the importance of postsecondary education and helping more Black and Hispanic adults earn a college degree. We also need to measure the short- and long-term impact of our actions so that we can tell what's working.
Finally, we need all sectors—public, private and not-for-profit—collaborating to address racial disparities in education. The Fairbanks Foundation and Business Equity for Indy reports provide recommended action steps for schools, colleges, employers and policymakers.
Education beyond high school is key to the vitality of Indiana's economy. Let's work together to ensure all Hoosiers—including Black and Hispanic individuals—can access the high-quality education needed to maximize their career opportunities. This will help ensure we continue to make Indiana a great place to live, work and raise a family.•
__________
Fiddian-Green is president and CEO of the Richard M. Fairbanks Foundation. She also serves as co-chair of the Business Equity for Indy's Learning & Talent Opportunities Taskforce.
Please enable JavaScript to view this content.