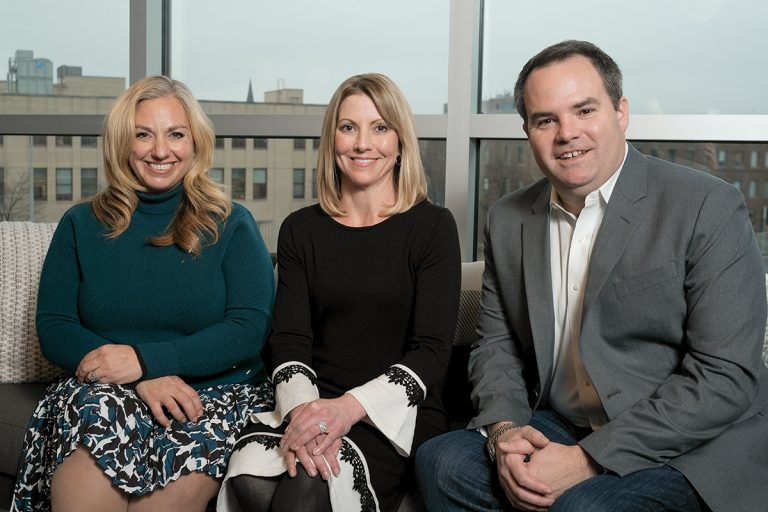 Like the entrepreneurs they represent, the three lawyers got restless working for someone else.
Kimberly Jeselskis, B.J. Brinkerhoff and Hannah Kaufman Joseph chafed against the decisions approved by their former law firm's leaders and became disappointed by what they perceived as the firm not sharing their values on how to treat people, grow the business and foster a team approach to the practice.
Mostly, they grew frustrated that the time when they could have a stronger voice in guiding the firm seemed to be getting farther and father away.
"We had reached a point where we were trying to make it work, but it wasn't working very well," Joseph said.
So, the three took a very entrepreneurial step. They left Katz Korin Cunningham on Sept. 27 and officially launched Jeselskis Brinkerhoff and Joseph LLC three days later. Their firm inhabits two offices in the Industrious Indianapolis coworking space on Massachusetts Avenue, and the founding partners are conscious of being as nimble and innovative as their business clients.
They speak like entrepreneurs, referring to their law firm as a small business and to themselves as owners. Just as prevalent in their conversation about their new venture is talk of customer service. They want to add value for their clients by becoming a trusted resource who can be called upon again and again for help.
Stepping to their own firm, which they have dubbed JBJ Legal, was a little like going home for Jeselskis. Before her stint at KKC, she was a solo practitioner, so she was not only well aware of the demands of running a law firm, she was also excited about being able to start and grow an office without the loneliness she experienced when she was on her own.
"The thought of having a law firm scares some people," she said. "But as long as you're serving the clients, I think you're going to be successful."
Distinguishing themselves
JBJ Legal is turning on its lights as the Indianapolis legal market is changing. Smaller firms have broken apart, regional firms have expanded their footprint and national as well as international giants have moved into town. In addition, individual attorneys and practice groups continue making lateral jumps.
The trio is carving their niche by establishing what they see as a boutique firm focused solely on business and employment law. They are not generalists willing to handle any legal matter that walks in the door. Instead, they are concentrating on helping startups, small companies and individuals navigate through transactional and litigation matters.
Jeselskis, Brinkerhoff and Joseph have become widely known since they started representing the four women who have filed a civil lawsuit against Indiana Attorney General Curtis Hill for alleged sexual misconduct. The team took on the case while they were still at Katz Korin Cunningham and remain the women's legal counsel.
The attorneys said being able to continue handling the Hill litigation played an important role as they considered whether to stay, start their own firm or join another firm. Even without the Hill lawsuit, they said they would have eventually opened JBJ Legal, but the timing probably would have been different.
As for maintaining their existing book of business and attracting new clients, the trio believe their willingness and ability to help with more than legal concerns will set their firm apart. They are not always restrained, they said, by the confines of the billable hour, so they can spend time discussing with the business owners and entrepreneurs nonlegal issues and questions.
Joseph recalled one client who needed an employment contract for a live-in nanny. The conversation between attorney and client, she said, started with the legal aspects like how to avoid a wage claim, then skipped to nonlegal matters, such as how the client would feel about having someone move into the house, before eventually becoming a brainstorming session on how the caretaker would handle food allergies and disciplining the children.
Taking the legal and extrapolating the real-world issues is the "most fun part of my job," Joseph said.
'Creativity and inspiration'
KKC managing partner Michael Gabovitch spoke of the three attorneys' departure with a nod to the present-day reality that the comings and goings of lawyers are now a part of any law firm practice.
"We respect the decision of the JBJ lawyers to seek and pursue other opportunities," Gabovitch said. "We wish them well."
He added that Katz Korin Cunningham is moving forward. The Indianapolis firm has hired four "highly skilled lawyers in each of our primary practice areas" and is renovating and expanding its office space in the Emelie Building near the downtown canal.
Starting their own firm was not a snap decision for Jeselskis, Brinkerhoff and Joseph. The three were very active on many committees within KKC, but they were also collaborating regularly as a team. Their work as a tight professional group caught the interest of another firm and started a "flirtation," as Brinkerhoff called it.
Although the conversations stopped when all the parties ultimately decided the fit was not right, leadership at KKC learned of the dalliance and told the three attorneys that if they were not happy, maybe they should do something different.
Brinkerhoff had spent his legal career working in law firms, but he was not worried about losing any security by opening his own office. He has focused on all parts of the new firm and made a full commitment to creating a successful law office rather than, as he explained, putting just a toe in the water.
"I worried about the security of others," he said, noting the firm also has an associate, an office manager and a law clerk. "I wanted to make sure that I was comfortable knowing whatever type of support our team needed, I would be available for."
Joseph acknowledged she was apprehensive about hanging a shingle. Her husband has started businesses, primarily in the food services arena, and she had previously had her own small firm with another attorney. She remembered well the fear, along with the difficulty, of planning and saving in a household occupied by two entrepreneurs.
Yet Joseph saw JBJ Legal as a low-risk enterprise. The three attorneys have loyal clients and know how to develop new business. Echoing Jeselskis, she said, "In a small business with professional services, as long as everybody is willing to work hard, it's pretty much a sure thing."
Befitting their entrepreneurial spirit, the three attorneys have leveraged technology and capitalized on modern-day office concepts in starting their firm.
They rely on software programs that do multiple functions, such as document retention along with tracking billable hours, crafting invoices and emailing clients. Also, moving into a coworking space enabled them to open their law firm and immediately look professional as they are without having to buy office furniture, lease a copier and hire a receptionist.
Moreover, the office has given them a home in their natural entrepreneurial habitat. "There's a lot of creativity and a lot of inspiration in being around all these small businesses," Joseph said.•
Please enable JavaScript to view this content.