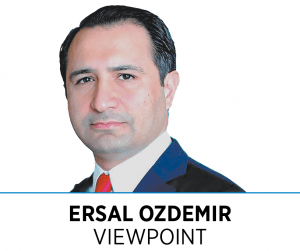 As Father's Day approaches, I look back over the last many years with pride and a thankful heart. I know this day isn't about me, but is about those around me who have made me the man—and the father—I am today.
I am a proud father of our four children. I am also grateful to my parents, who are living thousands of miles away in Turkey. My parents helped mold me into the father I am today.
Eleven years ago, when we had our first daughter, Sophia, my father was visiting like he often did. My father had always been a strong and independent family man. Yet, on this occasion, he was confused as to whose child she was. I knew in that moment something was not right.
This was a man who never asked for help before in his life. I'll never forget when he turned to me and said he was scared and needed help. I immediately realized if this strong man was scared, so was I.
My father was experiencing the first stages of Alzheimer's.
Unfortunately, this debilitating disease has taken my father's health, and the distance makes the impact of the disease even harder. But I know the reality is that Alzheimer's and other dementias are a challenge to many of us closer to home as well.
According to the Alzheimer's Association's "2022 Alzheimer's Disease Facts and Figures" report, more than 6 million Americans are living with the disease. That includes about 110,000 Hoosiers. By 2050, the number is projected to more than double.
The impact of dementia has a ripple effect on every aspect of society, impacting families, health care providers and our economy. Six in 10 dementia caregivers are employed while providing care to their loved one. They are more likely than other caregivers to go to work late and leave early, turn down a promotion, cut back hours or give up working entirely.
When dementia caregivers are at work, they might be less productive due to the impact of caregiving on their own well-being. Caregivers of people with Alzheimer's or other dementias rated the emotional stress of caregiving as high or very high.
I am sure a great number of those reading this know of a family caregiver who has been called upon to provide compassionate, loving care in the most difficult of circumstances. These are the heroes of Alzheimer's.
The good news is that there is hope. A global effort is underway to find new ways of diagnosing, treating, preventing and—ultimately—curing this devastating disease. I am proud to say Indiana is a leader in this fight.
Thanks to the tireless work of advocates, here in Indiana and across the country, funding for Alzheimer's research has increased dramatically in recent years. In fact, earlier this year, Indiana University School of Medicine announced it ranked fourth in funding from the National Institute on Aging, the primary funder of Alzheimer's disease research.
I hope together we can work to fight the devastating impact on those living with and caring for those with Alzheimer's and dementia and help change the impact it has on our families, our employees and our community.
Please join me and my family on Oct. 1 for the Walk to End Alzheimer's. Sign up at alz.org/Indiana/walk. Free support and resources are available for anyone impacted by this disease through the Alzheimer's Association's helpline: 800-272-3900. No one should go through this journey alone.•
__________
Ozdemir is the founder and owner of Keystone Group and Indy Eleven. He is serving as executive event chair of the 2022 Walk to End Alzheimer's in Indianapolis.
Please enable JavaScript to view this content.