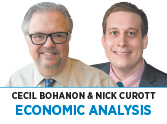 Recent data from the Centers for Disease Control and Prevention indicates that, in the 2020-2021 flu season, the number of children who have died from non-COVID-19 versions of the flu was 1. That's right—just one. The number who died in the 2019-2020 season was 195. The reasons are obvious. Social distancing, mask mandates, bans on mass gatherings, periodic lockdowns and moving K-12 school online.
Who can deny that all life is precious? Any single human life has infinite value. Society is obligated to do whatever it can to save human life. It all becomes pretty simple: Do we care more about profits than people? What is most important? Property value or human life?
The above data suggests—rather, compels—that we continue the social distancing, mask mandates, periodic lockdowns, bans on social gatherings and online schooling indefinitely. Let's not go back to the old toxic normal of unrestricted capitalism. Our current COVID-ruled environment should be the new normal—after all, science shows these noble efforts saved not just one innocent life but a net of 194 from a non-COVID cause!
April Fools.
Neither we nor, we hope, the most adamant advocates for COVID safety protocols believe this. While we remain agnostic on the exact timing of relaxing COVID restrictions, our larger point is that we routinely trade off lives lost from any cause for other things.
First, there are deaths clearly attributable to COVID restrictions. These include deaths from suicides, drug overdoses and failure to thrive, to mention a few. Although we can't statistically quantify it yet, we suspect an eternal extension of COVID restrictions would be a net win for the Grim Reaper.
But even if it were not, we still advocate for eventual relaxation of the restrictions. Face it, we all do things that risk death. Over 300 people die each year from falling off ladders. Yet any homeowner will attest to the benefit of having a ladder.
In 1960, Jean Bohanon took her four children to see "Pollyanna" at the local theater. When we got home, we all washed our hands with warm, soapy water. Mom insisted because her parents had active memories of the 1918 pandemic and had instilled this habit in her. Good job! But the theater was not closed because some child might contract and die from the seasonal flu. That risk was best assessed by Mrs. Bohanon.
Let the people choose. We are smarter than some think.•
__________
Bohanon and Curott are professors of economics at Ball State University. Send comments to ibjedit@ibj.com.
Please enable JavaScript to view this content.