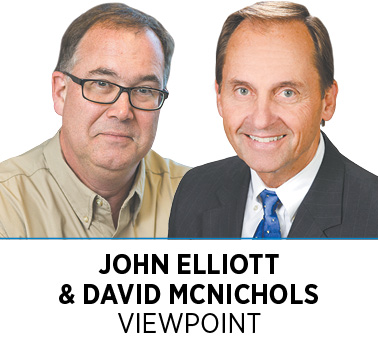 More and more, society is recognizing that leading a healthy life requires more than just access to health care providers. Factors known as social determinants of health play a significant role in someone's ability to be healthy. These determinants include one's living conditions, place of birth, education, and access to nutritious food.
Gleaners Food Bank of Indiana sees firsthand the impact lack of access to food has and how widespread it is. More than 1 million Hoosiers—including middle-class families, the working poor, children and the elderly—cannot easily get nutritious food.
Because of the reach and complexity of food insecurity, this problem requires everyone—businesses, not-for-profits and individuals—to pitch in to address it.
Gleaners and Anthem Blue Cross and Blue Shield are working together this year to support older adults through Gleaners' Senior Mobile Pantries. Designed as a food pantry on wheels, this program will host up to 120 Senior Mobile Pantry distributions in central and southeastern Indiana that fulfill seniors' needs that fall outside the reach of local agencies.
At each Pantry event, a Gleaners truck will bring more than 7,500 pounds of food. People can choose among items such as pantry staples, fresh fruits and vegetables, and frozen meats. This is part of Gleaners' work that has distributed more than 360 million pounds of food to Hoosiers in need.
Anthem is also using food in its approach to whole-person care. The company is giving many of its Medicare Advantage consumers access to nutritious home-delivered meals to help them recover after returning home from the hospital. Often, individuals come home and find it difficult to take care of themselves—such as eating in a healthy manner—because they have limited mobility, are still in pain, or for a number of other reasons. With this food service, these individuals can more easily focus on improving their health.
What's also important about these efforts is that they happen year-round. People often think about donating food, money and/or their time during the holiday season, but that makes the rest of the year challenging for food banks.
We call on the Indiana business community to continue—and expand, if possible—its support of not-for-profits, such as Gleaners, throughout the year to help address the social barriers that make it harder for Hoosiers to improve their health and well-being.
It's also important to engage these not-for-profits to find out what type of donations they prefer. With food banks, cash donations are often best because they offer more flexibility. Gleaners has the purchasing power to turn $1 into four meals, so Anthem's $200,000 sponsorship of the Senior Mobile Pantries will translate to 800,000 meals.
With more than 100 years between our two organizations dedicated to improving lives and communities, Gleaners and Anthem want all Hoosiers to lead healthier lives. No one should have to worry whether they, their family members or friends have access to a nutritious meal.•
__________
Elliott is president and CEO of Gleaners Food Bank of Indiana. McNichols is president of Anthem's Medicare Central Region.
Please enable JavaScript to view this content.