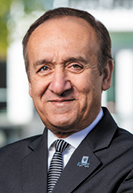 Nasser Paydar, who spent seven years as chancellor of IUPUI before retiring March 1, has been confirmed as assistant secretary for postsecondary education for the U.S. Department of Education, the department announced Friday.
Paydar, who was nominated to the post by President Joe Biden, will work under U.S. Secretary of Education Miguel Cardona.
"It is with great excitement that I congratulate Dr. Nasser Paydar on his confirmation as assistant secretary for postsecondary education," Cardona said in a written statement. "Dr. Paydar brings to the U.S. Department of Education more than three and a half decades of experience as a university leader and educator, during which time he has demonstrated an unwavering commitment to creating accessible pathways to college and careers for students of all ages, abilities, and backgrounds."
Paydar, 65, spent more than 30 years in administrative roles for Indiana University, including leadership positions at IUPUI, Indiana University-Purdue University Columbus and IU East.
He joined IUPUI in 1985 as an assistant professor of mechanical engineering in the School of Engineering and Technology.
Under Paydar's leadership, IUPUI expanded its footprint in downtown Indianapolis and grew to include more than 550 undergraduate, graduate and professional degree programs from IU and Purdue University.
During his tenure, the campus saw increases in on-campus housing and residential programs, as well as enhanced student life opportunities.
Please enable JavaScript to view this content.