James Burkhart, the former CEO of the state's largest nursing home company, is not giving up his attack on Barnes & Thornburg, the Indianapolis law firm that represented him against fraud charges that landed him a nearly 10-year prison sentence.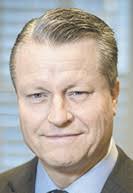 Burkhart, who led American Senior Communities, plans to appeal to the 7th Circuit Court of Appeals a May 12 decision by Indiana Southern District Chief Judge Tanya Walton Pratt's rejecting his request to throw out the charges.
Burkhart had argued Barnes & Thornburg had failed to disclose a "profound conflict of interest" that compromised its representation of him. Pratt ruled the law firm did indeed have a conflict but that it did not adversely affect its representation.
The executive, James Burkhart, was sentenced to 9½  years in prison in June 2018 after he admitted to orchestrating what prosecutors called a $19 million overbilling and kickback scheme involving American Senior Communities vendors.
But months later he lined up new counsel, the Florida litigation firm Leon Cosgrove, and filed a motion blasting Barnes & Thornburg for failing to disclose that it did extensive legal and lobbying work for one of the principal victims of the fraud, the Health & Hospital Corporation of Marion County. Health & Hospital owns more than 70 nursing homes run by ASC.
Leon Cosgrove asserts those ties explain why Burkhart's lead attorney, Larry Mackey, and his colleagues consistently advised Burkhart to take a friendly approach and "wrap his arms" around Health & Hospital and encouraged him to plead guilty.
In an email to The Indiana Lawyer late Friday afternoon, Leon Cosgrove partner John Byrne wrote, "Mr. Burkhart's constitutional rights were violated, and we will continue to seek justice on his behalf.  We plan to appeal the court's ruling."
In a 21-page ruling Wednesday, Pratt, the same judge who'd sentenced Burkhart, concluded Barnes & Thornburg "clearly had a conflict in their representation." However, she let his felony convictions stand, saying the record demonstrates "there was no ineffective assistance of counsel."
She noted federal prosecutors were armed with tape recordings in which Burkhart implicated himself in the fraud. In addition, she said the law firm did pursue legal strategies that challenged Health & Hospital.
Further, she noted that under his plea Burkhart admitted to only three of the 32 counts against him and that three mock juries had unanimously voted to convict him—and that was before American Senior Communities' chief operating officer and Burkhart's brother agreed to plead guilty and testify against him.
In a statement issued Friday in response to response to an inquiry from The Indiana Lawyer, Barnes & Thornburg said, "Barnes & Thornburg loyally and vigorously defended Mr. Burkhart and this decision confirms that he was unharmed by the claim of conflict of interest he raised with the court."
Burkhart, 56, is serving his sentence at a minimum-security prison in Montgomery, Alabama. He is scheduled for release in 2026.
The case is James Burkhart v. United States of America v. Barnes & Thornburg LLP
Please enable JavaScript to view this content.